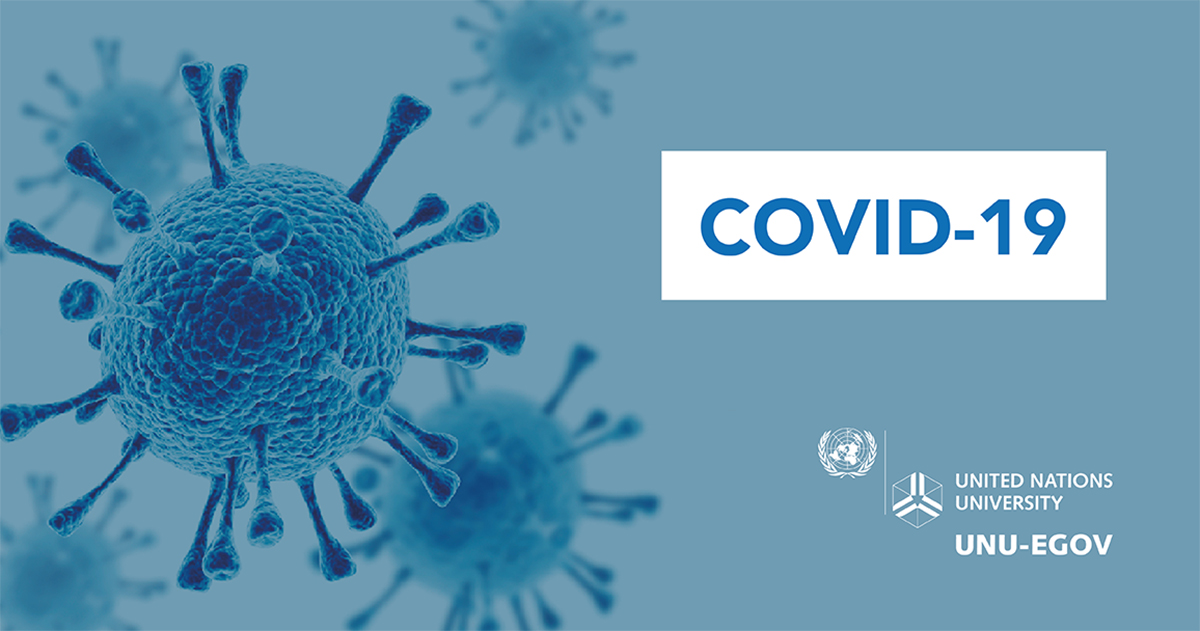 ---
The coronavirus disease 2019 (COVID-19) is an infectious disease caused by severe acute respiratory syndrome coronavirus 2 (SARS-CoV-2). The disease was first identified in 2019 in Wuhan, China, and has since spread globally to more than 190 countries and territories. The World Health Organization (WHO) declared the 2019-20 coronavirus outbreak a pandemic on 11 March 2020, which is ongoing in 2021.
The pages below have been set up to provide information on how the ongoing pandemic is affecting UNU-EGOV's operations in Guimarães, Portugal and what measures can be taken by UN staff to help protect themselves and their families. It also includes wellbeing tips during the quarantine or self-isolation period. The pages will be continuously updated as the situation evolves.
This page was last updated on 2 February 2021.
---
UNU-EGOV continues to deliver on its goals and mission during the pandemic, albeit with none or very few physical interactions between its staff members since 9 March 2020. Updates on research and news item, as well as opportunities to engage virtually with us, will continue via our website and social media; you can also contact us by email.
Below is a list of measures taken to date by the Operating Unit and other measures enforced country-wide to help stop the spread of COVID-19 and keep its staff safe as much as possible.
Mário Meira was appointed as the COVID-19 Outbreak Coordinator at UNU-EGOV.
All UNU-EGOV staff is working remotely since 9 March 2020, with access to the office allowed only during short periods of time and in case of urgent need.
All further official travel requests for 2020 and first half of 2021 are denied and existing official travels in 2020 were cancelled.
All events scheduled for 2020 and the first half of 2021 were either cancelled or held virtually when possible, including the annual ICEGOV conference.
Establishment of weekly virtual meetings with all staff for updates regarding work and for everyone to share their current experience and wellbeing status.
The State of Emergency is declared country-wide by presidential decree, in force from 19 March to 1 May.
After a gradual lift in restrictions during summer, the State of Emergeny was once again declared on 9 November and is expected to last until April 2021.
Use of mask is mandatory everywhere when outside the house.
Mandatory "stay at home" for the whole country.
---
Current status of the pandemic in Portugal
The National Health Directorate (Direção-Geral de Saúde or DGS) has set up a website for COVID-19. It contains information about the disease, how to prevent it, news, and health and safety instructions. Although an English version is not available, an automatic translation to English of most pages on the website can be performed by clicking on the globe icon and selecting "English".
It also shows the latest numbers in the country for infected people (blue), suspect cases (yellow), recovered people (green), and the death toll (red), split by region and district. The numbers are updated every day at midday, together with a live press conference.
There is also a hotline called SNS24 – 808 24 24 24 (press "5" for English). Anyone with COVID-19 symptoms must call this hotline first and stay isolated. The service will then perform the necessary actions to ensure the person is tested for the disease and what to do afterwards.