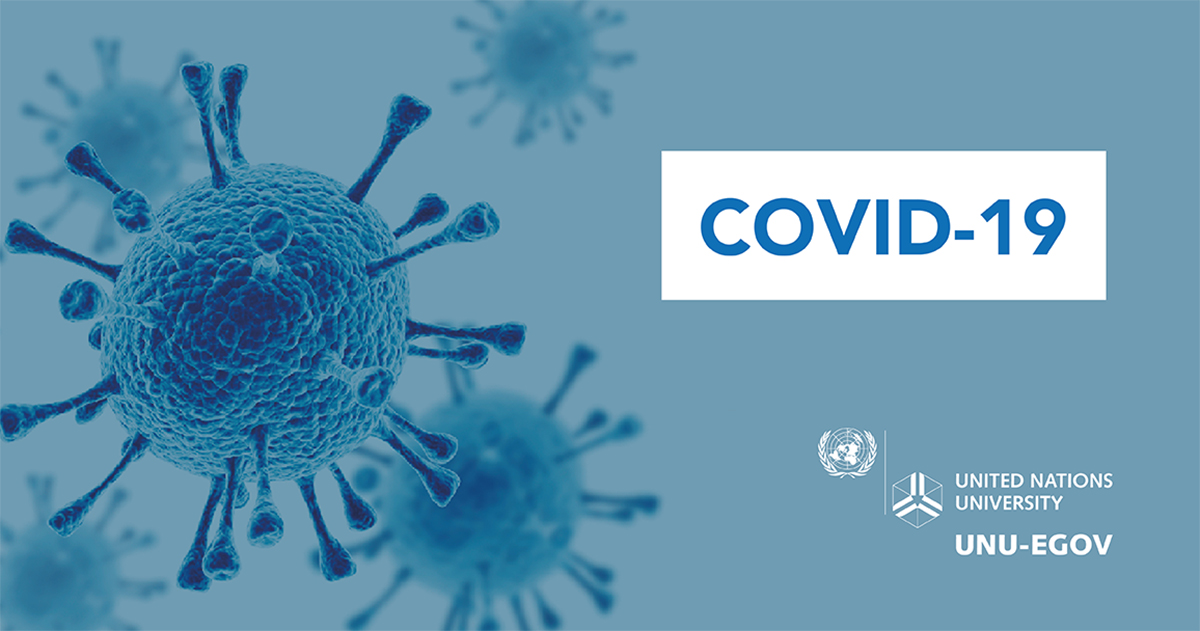 ---
UNU-EGOV will continue to deliver on its goals and mission during the pandemic, albeit without any physical interaction of its staff members for the time being. Updates on research and news item, as well as opportunities to engage virtually with us, will continue via our website, social media, and email.
Below is a chronological list of measures taken to date by the Operating Unit and other measures enforced country-wide to help stop the spread of COVID-19 and keep its staff safe as much as possible.
All UNU-EGOV staff to work from home until further notice (9 March);
The premises, hosted by the University of Minho, were disinfected and closed until further notice (11 March);
All official travel requests were denied and existing official travels were cancelled (12 March);
All events for March-June were postponed to a later time or held virtually when possible (12 March);
Appointment of Mário Meira as the COVID-19 Outbreak Coordinator at UNU-EGOV (16 March);
The State of Emergency is declared country-wide by presidential decree (18 March, in force since 19 March);
A meeting was held with all staff to share information regarding the country's state of emergency and for questions on how to act (20 March);
Establishment of two weekly virtual meetings with all staff for updates regarding work and for everyone to share their current experience and wellbeing status (20 March);
The presidential decree enforcing the State of Emergency is made available in English (25 March) [more information on this below];
The state of emergency is extended a second time until 17 April 2020.
The state of emergency is further extended a third time until 2 April 2020.
The state of public disaster is declared country-wide on 3 April 2020
---
Current status of the pandemic in Portugal
The National Health Directorate (Direção-Geral de Saúde or DGS) has set up a website for COVID-19. It contains information about the disease, how to prevent it, news, and health and safety instructions. Although an English version is not available, an automatic translation to English of most pages on the website can be performed by clicking on the globe icon and selecting "English".
It also shows the latest numbers in the country for infected people (blue), suspect cases (yellow), recovered people (green), and the death toll (red), split by region and district. The numbers are updated every day at midday, together with a live press conference.
There is also a hotline called SNS24 – 808 24 24 24 (press "5" for English). Anyone with COVID-19 symptoms must call this hotline first and stay isolated. The service will then perform the necessary actions to ensure the person is tested for the disease and what to do afterwards.
---
State of Public Disaster (3-17 May)
The State of Public Disaster is at a lower level than the State of Emergency. In order to allow a progressive resumption of social life, the following conditions need to be met:
Availability of masks and disinfectant gel on the market;
Regular cleaning of spaces;
Reduced maximum capacity (5 persons/closed spaces of 100 m2);
Hand hygiene and respiratory etiquette;
Physical distance of 2 meters;
Mandatory use of masks in public transport, schools, shops and other closed places with multiple people;
Reassessment will be done every 15 days.
What are the general duties that must be observed during this situation?
Mandatory confinement for people with COVID-19 and under active surveillance;
Civic duty of home confinement;
Prohibition of events or gatherings with more than 10 people, except at funerals, where family members may be present.
---
Dates for lifting lockdown measures
During May and June, there will be a gradual lift of the lockdown measures currently in place. The schedule is as follows (subject to change):
Public transports (04/05): maximum capacity of two thirds, sanitation and cleaning will be regular, mandatory use of face masks.
Work (04/05): those who can will be expected to work from home throughout May and groups of more than 10 people are not allowed. From June onwards, partial teleworking will be enforced, with staggered schedules or mirror teams.
Public Services (04/05): tax office, social security, notary will open, but only by appointment only. Mandatory use of masks. Citizen's bureau open on 1 June.
Local Businesses (04/05): small neighborhood stores under 200 m2 and with an open door to the street, book stores, motor trade, businesses that provide personal hygiene services (hairdressers, barbers, and similar).
Sports (04/05): individual outdoor sports (no locker rooms or swimming pools allowed).
Culture (04/05): libraries and archives.
Local Businesses (18/05): stores under 400 m2 and with an open door to the street or parts of store up to 400 m2 (bigger stores by decision of the city council), restaurants, coffee shops and bakeries at 50% capacity.
Culture (18/05): museums, monuments, palaces, art galleries and similar.
Sports (30-31/05): the national football league and Portuguese Cup will resume with all games behind closed doors (no spectators).
Other Businesses (01/06): stores over 400 m2 and shopping malls.
Schools and Social Facilities (01/06): nurseries and day care centres, preschool education, leisure-time activities.
Culture (01/06): cinemas, theatres, concert halls and auditoriums with booked seats, reduced capacity and social distancing.
---
State of Emergency (19 March – 2 May)
The State of Emergency was declared by presidential decree on 18 March and came into force on 19 March, after approval by the parliament.
The state of emergency declaration, issued for the first time in Portugal since 1975, covers the whole of the national territory and all people currently on it, either Portuguese or foreign. It is set to last 15 days, however, it can be renewed if necessary for equal periods.
Any acts of active or passive resistance to the orders issued by the competent public authorities are forbidden. People who do so may be placed under arrest and charged with the crime of disobedience.
People who are infected with COVID-19 are to stay in mandatory isolation.
People over the age of 70 or those who with existing health problems that make them vulnerable should only leave home in very exceptional circumstances: for securing essential goods, going to the health centre, the bank, or taking short walks for health reasons.
In all other cases, people can only leave home if absolutely necessary: for work, assisting family members, to walk pets or perform a short walk near their home, or to buy essential goods.
Bakeries, supermarkets, pharmacies, petrol stations and others defined by the law are to remain open. Restaurants and cafes must be closed – only take-away services can be maintained.
Wherever possible, all work should be done remotely via phone or online to avoid all face to face communications.
Holding meetings, demonstrations, religious celebrations and other worship events that involve an agglomeration of people are forbidden.
Land border controls with Spain are in effect and people arriving at any airport will be placed in mandatory quarantine for 14 days.
The full presidential decree in English can be accessed here.