DATE / TIME:

2018•10•08 09:30 - 2018•10•10 17:30

Location:

Guimarães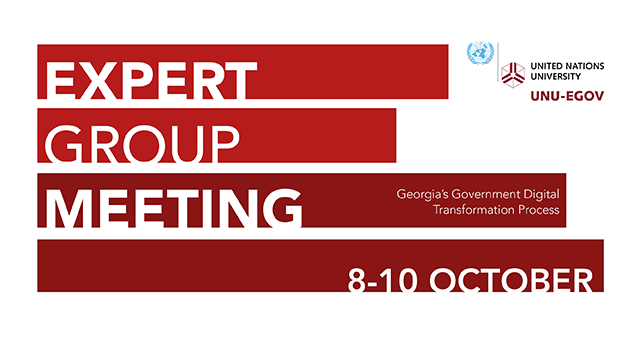 Google "Georgia" and two results are guaranteed: firstly, a bit of confusion between the European Republic of Georgia and the southern US state of Georgia; secondly, achievements in public sector modernisation which, since 2004, have been lauded for their ability to increase transparency, fight corruption, ease the way of doing business, and improve public service delivery to citizens.
Despite these achievements, research into the Georgian model of governance and inter-governmental cooperation is still limited. As part of UNU-EGOV's research and Government Fellowship programme, work in the past year has been carried out to understand how Georgia could still improve its e-Government (EGOV) strategies.
From 8 to 10 October 2018, UNU-EGOV will host an Expert Group Meeting on Georgia's Government Digital Transformation Process with the participation of a delegation from the LEPL. Data Exchange Agency (DEA), part of the Ministry of Justice of Georgia. Delegates from the DEA and UNU-EGOV researchers will meet to present and discuss the EGOV digital transformation process in the country and brainstorm on promotion strategies for EGOV achievements. The Georgian delegates will also receive training in the fields of digital transformation and EGOV trends, focused particularly on smart initiatives, the conceptualisation and challenges of open government and open data as well as on local government topics and e-service delivery.
This initiative is part of a framework of collaboration between DEA and UNU-EGOV, which will be formalised during the visit with the signature of a Memorandum of Understanding that identifies areas of common interest and cooperation in the field of EGOV and digital economy.
The DEA was established in 2010 by the Georgian Parliament and is headquartered in the capital, Tbilisi. The mission of the DEA is to develop the e-Government ecosystem, stimulate electronic public service delivery, operate data exchange infrastructure, and strengthen information and cyber security in the Georgian public sector. It strives to support the following fields: e-Governance development, creation and installation of a unified Georgian Governmental Gateway (3G) and its monitoring, and the establishment of data exchange infrastructure. Setting ICT standards for public sector entities and elaborating information security policies is also an important responsibility of the agency.