DATE / TIME:

2021•12•09 11:00 - 13:00

Location:

Lisbon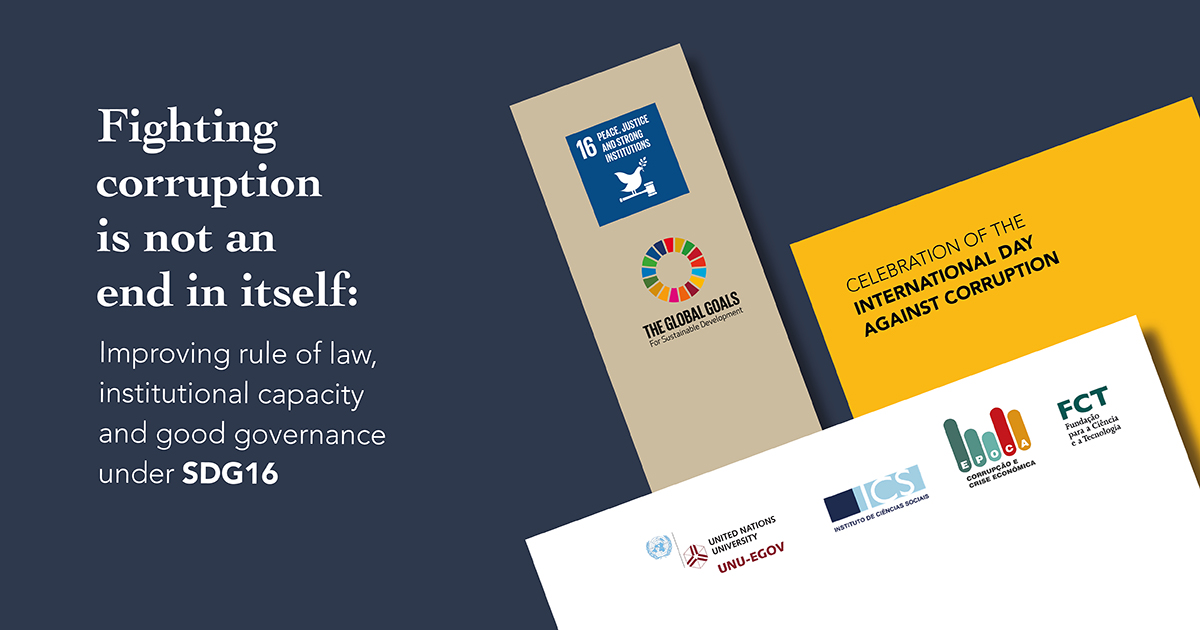 ---
On 31 October 2003, the United Nations General Assembly adopted the UN Convention against Corruption and designed 9 December as the International Anti-Corruption Day to raise awareness for this complex social, political, and economic phenomenon that affects all countries.
A major factor for undermining democratic institutions, corruption also plays a negative role in economic development while heavily contributing to governmental instability. Corruption distorts electoral processes, perverts the rule of law, and creates bureaucratic quagmires whose only reason for existing is the soliciting of bribes, amongst other negative factors.
As part of its mission, UNU-EGOV has partnered with the Institute of Social Sciences (University of Lisbon) to organise an event centred on the theme of corruption, precisely on 9 December. A total of four experts will take part in a panel:
Ana Gomes, Former Member of the European Parliament and Chair of the Transparency International Portugal General-Assembly
Luís Mah, Research Fellow, University of Lisbon
Karina Carvalho, Executive Director, Transparency International Portugal
Carla Gomes, Research Fellow, University of Lisbon
Further, the event is also part of the Capacity Building Programme developed by the Operating Unit for the Egyptian National Institute for Governance & Sustainable Development. Since late August, Guimarães has been the centre of intensive executive training for over 130 people from Egypt's public administration and governmental system. The last course, focused on Digital Transformation and Corruption Fighting, offers as well a field visit to the Court of Accounts and Corruption Prevention Council.
---
If you require more information about this event, please email us: egov@unu.edu.