DATE / TIME:

2019•10•08 10:00 - 11:00

Location:

Guimarães
Abstract
The seminar will discuss studies integrating the geospatial perspective with Big Data Analytics, such as the development of Economic Indicators from Electric Energy, conducted with data from the municipality of São Paulo in Brazil. Additionally, the Matrix geospatial data delivery platform will be presented and discussed, and the integrated view of health and ageing indicators to support public policies.
Speaker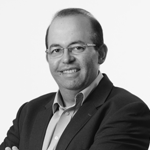 Eduardo de Rezende Francisco is Full professor of GeoAnalytics and Data Science at FGV EAESP, Department of Technology and Data Science (TDS) and Associate Dean Assistant of Undergraduate Program in Business Administration at FGV EAESP. He is a founding partner of GisBI, a study and promotion group for the integration of geo-technologies and Big Data Analytics.
Eduardo holds a PhD and Master in Business Administration from the Getulio Vargas Foundation School of Business Administration in São Paulo and a Bachelor in Computer Science from the Institute of Mathematics and Statistics of the University of São Paulo. He was a visiting researcher at the Information Science Department at the University of Otago, New Zealand.