DATE / TIME:

2022•06•28 10:00 - 11:00

Location:

Guimarães
Abstract
Smart cities have been considered pathways towards sustainability, equality, and safety in urban spaces. Thus, to be smart, cities must be safe and inclusive. Nevertheless, gender (Nesti, 2019) and race issues, for example, have been neglected in smart city literature. The risk of not considering social categories of difference is to design smart cities for a "universal" citizen and, therefore, based on an androcentric perspective.
This seminar aims to present partial results of Ph.D. research on women's perception of safety and their experiences of violence. From an intersectional lens, the research seeks to understand how gender and race intersect to shape women's perceptions of safety and experiences of violence in smart cities.
Speaker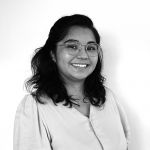 Javiera Macaya is a researcher in the area of Qualitative Methods and Sectorial Studies at the Regional Center for Studies on the Development of the Information Society, department of the Brazilian Network Information Center (Cetic.br | NIC.br). She is PhD candidate at Fundação Getulio Vargas's São Paulo School of Business Administration (FGV-EAESP), in the Administration, Analysis and Information Technology area (Technology and Data Science Department). She holds a Master's degree in Public Administration and Government from FGV-EAESP and a Bachelor's degree in Public Policy Management from the School of Arts, Sciences and Humanities of the University of São Paulo.
Javiera has participated in research projects related to the access, use and adoption of information and communication (ICT) technologies in Brazil. She has coordinated several publications (books, papers and reports) about smart cities, inequalities in the access and use of ICT – gender, people with disability, children and adolescents, e-government, schools. She has coordinated reports on emergent topics related to technologies, in different areas. Additionally, she has been part of a research team on smart cities in Brazil. Her research interests include, among, other, smart cities, gender, electronic government, inequalities on the access, use and adoption of ICT, and qualitative methods.
---
If you require more information about this event, please email us: egov@unu.edu.