DATE / TIME:

2023•06•06 10:00 - 11:00

Location:

Guimarães
Abstract
This seminar aims to discuss open data governance in the context of the digital transformation of the public sector. E-governance programs were scaled up to improve efficient and transparent service delivery, change organizational culture, strengthen multi-stakeholder interactions, and create public value. These claims were extended to open data.
Publicizing and accessing public information has become fundamental. Data produced by government agencies, such as the offices of national statistical systems, embody the premise of open access to data in all forms. Open data can be freely accessed, used, modified, and shared. With web 2.0 and open source, governments were invited to adopt open standards and support public sector organizations and corporations to open up data.
The social, technical, political, and economic context in which data is produced and consumed has become increasingly robust. Meanwhile, governments are committed to using emerging technologies – Artificial Intelligence, Machine Learning, the Internet of Things, Natural language processing, Virtual Reality, Augmented Reality AR, and big data technologies, whose data is an essential and powerful asset.
The data ecosystem increasingly needs an adequate governance structure to promote sharing and collaboration, break down silos and unlock the potential of data as a public good.
Despite the prediction of the contribution of open government data to economic growth, social development, and innovation, the results and impacts of data are still under discussion. For such a transformation to happen in a reliable, sustainable, and prosperous way, data governance must be inclusive, well-structured, and executed.
Speaker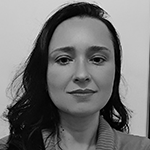 Larissa Magalhães is a Research Associate at the United Nations University (UNU-EGOV) since 2022.
She is also a researcher in Digital Policies at CyberBRICS program, Law School, Fundação Getúlio Vargas. Her research is between government technology and innovation, focusing on open data, smart cities, digital transformation capabilities, and strategies.
Larissa has a PhD in Political Science from the State University of Campinas and analyzed open government in São Paulo. During her PhD, she was a visiting scholar at the University of Montreal as a fellow of the Future Leaders in the Americas and Caribbean Program. She did postdoctoral work in Data Science in Social Sciences at Fundação Getúlio Vargas and in Sociology when she was involved with the Environmental Disaster Assistance Network in Brazil.
Larissa accumulated activities as a fellow at the Southern Cyber School on Internet Governance of the Organization of American States. She is a professional scholarship holder at the Getulio Vargas Foundation for Europe. Larissa has worked with organizations related to data for the public good, such as the Latin American Initiative for Los Data Abiertos, Global Data Barometer, V-Dem Institute, and United Cities and Local Governments.
---
If you require more information about this event, please email us: egov@unu.edu.
Co-financed by: