DATE / TIME:

2021•12•07 16:15 - 17:15

Location:

Guimarães
Abstract
The growing concern of digital cultural heritage has been noticed by many countries, in addition to international development organizations. Major reasons go beyond the concept of enhancing tourism sector, preserving identity and protection of cultural heritage being threatened in many parts of the world, but also in integrating it within the concept of "smart living" in smart cities development subject to smart governance. This talk would focus on current policies and strategies, and ways where they cross with human development at large.
Speaker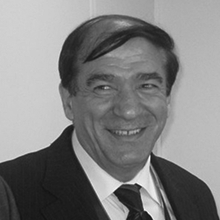 Saleem Zoughbi is a global advisor for Information and Communication Technology and has been providing technical assistance and advisory services to over 50 developing countries. He is active in international community of e-governance, strategies and policies of smart governance, m-government, smart cities and sectors, and ICT SDGs. He served in academic life over 20 years as professor and chairperson in Palestine, he joined UN ESCWA in Beirut, then United Nations University in Macau, China, and currently he is a senior adviser in the UN APCICT for government capacity building and change management. He also supported many countries through Booz & Co. ProcewaterhouseCoopers and other international firms. In addition, he was involved on short terms with several UN organizations such as UNU, UNDP, UNESCO and others. His latest missions of 2019 were in Kazakhstan, Uzbekistan, Lesotho, Mali and Ivory Coast. He wrote several books as well in this field.
---
If you require more information about this event, please email us: egov@unu.edu.