DATE / TIME:

2018•03•27 10:00 - 11:00

Location:

Guimarães
Speaker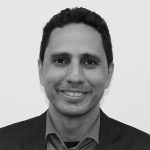 Wagner Araujo is an Advisor of the National Secretary of Information and Communication Technology, working on ICT governance at Federal level, including the institutionalization of the Brazilian CIO, which main objective is to create and offer rules and tech solutions to develop Digital Governance and Digital Government in Brazil. In the last couple of years, his team was co-author of Executive branch acts which institutionalized the Digital Governance Policy, Open Data Policy, and Digital Citizenship Platform. He holds a master's degree in Administration, a specialist degree in ICT administration, and a bachelor's degree in Computer Science, both diplomas from the University of Brasilia, Brazil. Wagner joined the UNU-EGOV team as a Government Fellow for the period January-March 2018.
Abstract
In this session, Wagner will complement the content showed in "Brazil Egov past and present" seminar, held in February 2018. The following questions will be part of the discussion:
What does the radar show as the next steps in Brazilian EGOV evolution?
How the recent monitoring results of the Brazilian EGOV national strategy impacts the actual review?
Which further inputs are being considered?
Which connections Digital Governance Strategy and the recent published "Brazilian Strategy for Digital Transformation: E-Digital" exist?