DATE / TIME:

2018•02•06 10:00 - 11:00

Location:

Guimarães
Speaker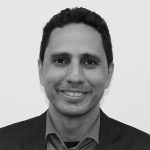 Wagner Araujo is an Advisor of the National Secretary of Information and Communication Technology, working on ICT governance at Federal level, including the institutionalization of the Brazilian CIO, which main objective is to create and offer rules and tech solutions to develop Digital Governance and Digital Government in Brazil. In the last couple of years, his team was co-author of Executive branch acts which institutionalized the Digital Governance Policy, Open Data Policy, and Digital Citizenship Platform. He holds a master's degree in Administration, a specialist degree in ICT administration, and a bachelor's degree in Computer Science, both diplomas from the University of Brasilia, Brazil. Wagner joined the UNU-EGOV team as a Government Fellow for the period January-March 2018.
Abstract
Since 2000, Brazil has developed several strategies in the area of EGOV. Up until now, six different Administrations ran the country. A set of questions are then in place:
What did they do?

What was their legacy?
What has changed in Brazil regarding EGOV concepts, approaches, and initiatives?
Which contemporary issues, such OGP co-foundation in 2011, impacted Brazilian EGOV strategies design and implementation?
In this seminar, Wagner will answer these questions and share with the audience topics related to:
Brazilian and Latin America EGOV context;
Roles of Brazilian government agencies in EGOV;
Main landmarks in Brazilian EGOV evolution and its current status.
A particular focus on the recent monitoring results of the Brazilian EGOV national strategy will also be held.