DATE / TIME:

2018•06•21 10:00 - 2018•06•22 18:00

Location:

Guimarães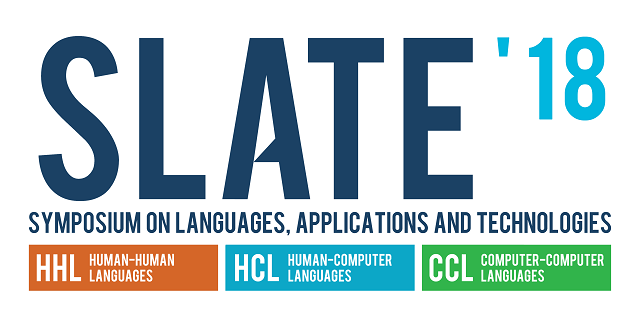 ---
We often use languages. First, to communicate between ourselves. Later, to communicate with computers. And more recently, with the advent of networks, we found a way to make computers communicate between themselves. All these different forms of communication use languages, different languages, but that still share many similarities. At the 7th edition of the Symposium on Languages, Applications and Technologies (SLATE'18), we are interested in discussing these languages.
SLATE'18 is organized by the School of Engineering at the University of Minho and this year's edition is hosted by UNU-EGOV, therefore taking place in Guimarães, Portugal. The 2-day programme will see a number of topics organized in three different tracks:
1. Human-human languages (HHL) is a forum dedicated to the discussion of research projects and ideas involving natural language processing tools and techniques and their industrial application.
2. Human-computer languages (HCL) is a forum where researchers, developers, and educators exchange ideas and information on the latest academic or industrial work on language design, processing, assessment, and applications.
3. Computer-computer languages (CCL) is a forum which main goal is to provide a broad space for discussion about the XML markup language and interchangeable formats, together with examples of usage and associated technologies.
Apart from the contributions through research papers, which will be later published as part of the conference proceedings, SLATE'18 will also see a number of keynotes being delivered:
What Programming Language Design Taught Me About Life by Kent Pitman (HyperMeta, Inc.)
From Eliza to Siri: A brief survey on Natural Language Understanding by Luísa Coheur (Instituto Superior Técnico / INESC-ID)
Norma-Simplex: Exploring the Full Spectrum of Languages by Nuno Carvalho (UNU-EGOV)
Static Application Security Testing by José Pereira (Checkmarx)
The full conference programme is available here.