DATE / TIME:

2017•06•15 14:30 - 16:15

Location:

Geneva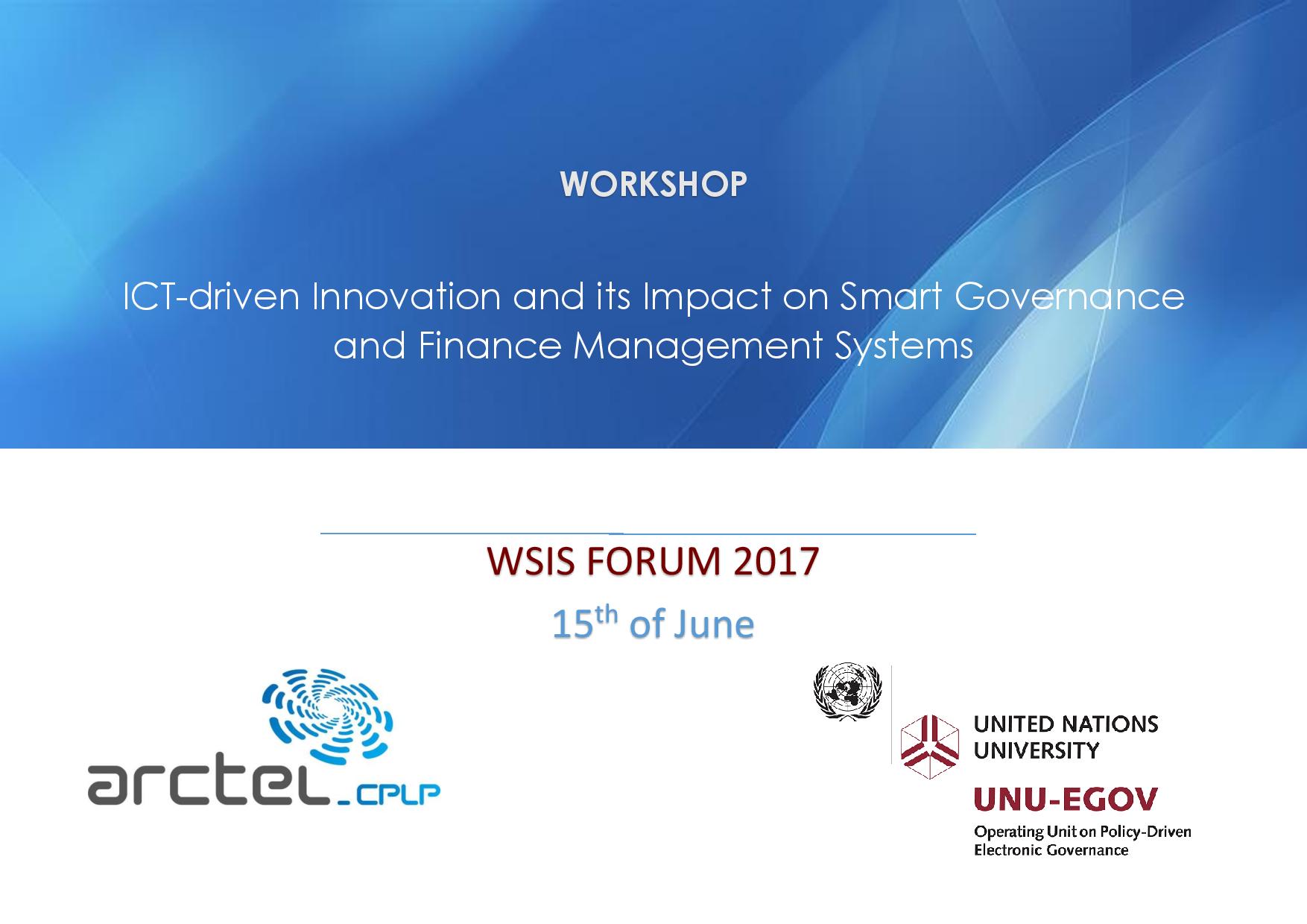 As in previous years, UNU-EGOV will be part of the World Summit on the Information Society Forum (WSIS) 2017, which will take place in Geneva, Switzerland, between 12-16 June. The WSIS Forum represents the world's largest annual gathering of the "ICT for development" community and is a global multi-stakeholder platform facilitating the implementation of the WSIS Action Lines for advancing sustainable development. The Forum is co-organized by ITU, UNESCO, UNDP and UNCTAD, in close collaboration with all WSIS Action Line co-/facilitators and other UN organizations, and provides an opportunity for information exchange, knowledge creation and sharing of best practices, while identifying emerging trends and fostering partnerships, taking into account the evolving Information and Knowledge Societies.
The workshop jointly organized by UNU-EGOV and ARCTEL (Association of Communications and Telecommunications Regulators of the Community of Portuguese Language Countries – CPLP) will focus on two main topics: EGOV for Sustainable Development (1) and Social Innovation through ICT: the SMART Experiments (2). The workshop is titled "ICT-driven innovation and its impact on smart governance and finance management systems."
1) EGOV offers improvement potential in the following areas which are crucial for the developing world: the general provision of public services, statistical and information processes, finance management and tax systems, public participation, and formalization. In the area of public service provision for example in the African context, it is first a matter of providing and setting up the processes and services necessary for state activities under the rule of law. Unfortunately, the necessary data is often non-existent or completely outdated – for example land registers, residential data or geographic data. EGOV offers opportunity to improve these services, even in areas with low literacy rates (e.g. through mechanisms of access to public services facilitated, for example by kiosk systems with voice recognition). Consistent (and up-to-date) data is a key requirement for development planning. In most developing countries, data relevant to development is hardly available in the quality required. IT applications make it possible to electronically (and often automatically) generate statistical reports, considerably reducing the effort for the party obligated to produce the reports.
2) SMART use of technology and data requires telecom infrastructure availability at affordable prices and digital literacy. How can SMART city concepts be scaled up to a national or regional level? How can it be scaled down to village level or used in remote rural areas to promote sustainable development, economic growth, quality of life and access to public services? How can specific challenges of emerging economies be overcome through innovative use of technology, alternative access points to the internet (e.g. wi-fi zones and alternative access points at schools, libraries, government buildings and community centers)? We will talk about SV4D a project that aims to bring access to broadband to rural villages together with the capacity to develop inside projects with the communities.