DATE / TIME:

2020•12•02 09:00 - 2020•12•04 18:00

Location:

Online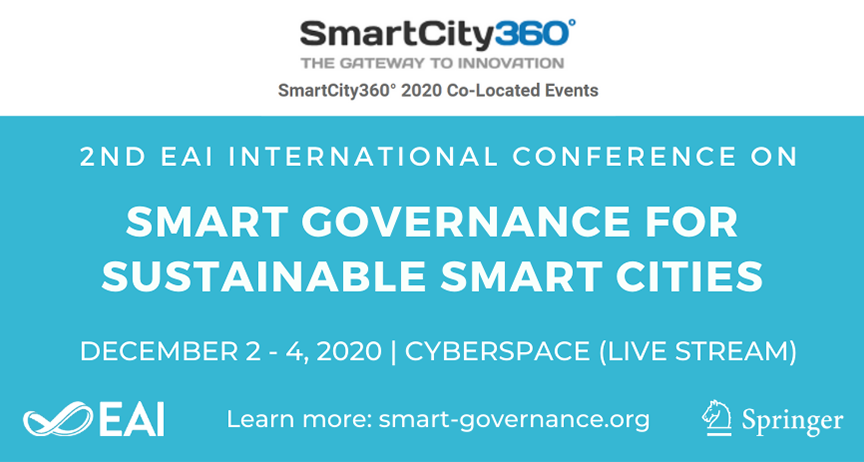 ---
The 2nd EAI International Conference on Smart Governance for Sustainable Smart Cities – EAI SmartGov 2020 – is scheduled to take place on 2-4 December this year. Initially planned to be held in the portuguese city of Viana do Castelo, due to the COVID-19 pandemic it is now a fully-fledged online conference.
SmartGov 2020 provides an opportunity for researchers and practitioners to meet and share ideas, experiences and results related to all aspects and dimensions of smart governance, and the design, implementation and monitoring of smart cities and settlements. It is organised by EAI – European Alliance for Innovation, a non-profit organization and a professional community established in cooperation with the European Commission to empower the global research and innovation, and to promote cooperation between European and International ICT communities.
The central theme is Smart Governance, both a response to and the product of rapid change in the ways that cities and settlements have to be managed. Rapid urbanisation and social change drives local governments to seek out new ways to deliver services and manage cities and drives innovation in processes and policies. At the same time, emerging digital technologies offer new ways for local government to understand and monitor the dynamics of the city, respond to the state of the city, carry out administrative tasks and streamline procedures.
The complexity of smart cities and settlements means that roles and responsibilities have to shift to allow a greater range of stakeholders to contribute to the design and delivery of smart services. This means that local government needs to find new ways to interact with business, thought-leaders, suppliers, residents and visitors. Greater transparency and frequent, two-way communication are expected with the co-creation of public services allowing for greater innovation. Advances in data science allow relevant, real-time data to be transformed into useful information to understand urban behaviour and infrastructure needs. This can support evidence-based decision making, automated responses and autonomously managed procedures. Realising this potential, however, raises concerns about privacy and security issues, the resilience of critical information infrastructures, and the unintended consequences as social expectations and behaviours are shaped by algorithms.
For more information, visit the conference website.