DATE / TIME:

2019•02•25 10:00 - 17:00

Location:

Guimarães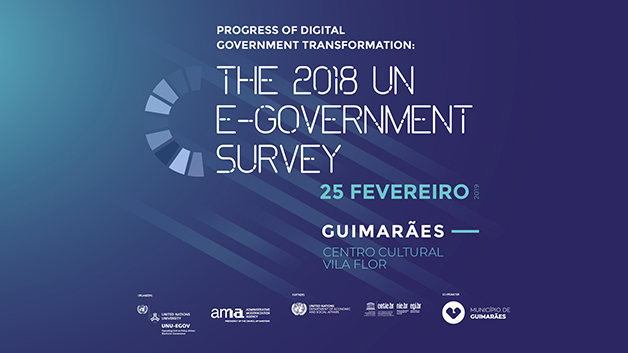 The United Nations University Operating Unit on Policy-Driven Electronic Governance (UNU-EGOV) and the Portuguese Administrative Modernization Agency (AMA) are co-organisers of the international conference on Progress of Digital Government Transformation: The 2018 UN e-Government Survey, to be held on 25 February 2019, between 10-17h, at Vila Flor Cultural Centre, in Guimarães.
This event, which will be attended by the Minister of the Presidency and of Administrative Modernization and by international organizations such as the UN, OECD and CETIC.br/NIC.br, will address the international progress in the development of e-Government and the official launching of the Portuguese version of the 2018 UN e-Government Survey, conducted by the United Nations and which places Portugal in the group of countries with very high EGOV development.
---
Agenda
10:00 | Reception & Coffee
10:30 | Opening Session
Delfina Soares | Head, UNU-EGOV
Domingos Bragança | Mayor, Municipality of Guimarães
Minister of the Presidency and Administrative Modernization
11:00 | Cooperation Agreements
Signature of the Memorandum of Understanding between UNU-EGOV and CETIC.br;
Announcement of the exchange of letters between UNDESA and UNU-EGOV.
11:30 | The 2018 UN e-Government Survey: Facts, Trends and Challenges
Vincenzo Aquaro | Chief of Digital Government, UNDESA-DPIDG
12:00 | Launching of the Portuguese Edition of the UN 2018 E-Government Survey
12:15 | Unveil the Challenges and Strategies to Achieve a Sustainable EGOV Development
---
12:45 | LUNCH BREAK
---
14:30 | EGOV Evolution: What Does a Longitudinal Analysis of Ten UN e‑Government Surveys Have to Say?
Morten Meyerhoff Nielsen | Academic Fellow, UNU-EGOV
15:30 | Panel: The impact of indexes and measurements on EGOV development: answering the 5WH questions of EGOV assessment and monitoring
To be confirmed | UNDESA-DPIDG
Delfina Soares | Head, UNU-EGOV
Alexandre Barbosa | Director, CETIC.br/NIC.br
João Vasconcelos | OECD
Carlos Santiso | CAF
EGOV leaders from Portuguese speaking countries (TBC)
16:45 | Closing Session
17:00 | Coffee