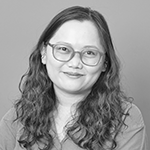 INSTITUTE:

UNU-EGOV

OFFICE:

Rua de Vila Flor 166, 4810-445 Guimarães, Portugal

E-MAIL:

charmainedistor@unu.edu

PHONE:

n/a
Research Interests
e-Government
Emerging technologies
Local governance
Public administration
Education
Global Master of e-Government and Public Management, Yonsei University, Republic of Korea (2022)
BSc, Development Communication, University of the Philippines, Philippines (2017)
Appointments
Junior Research Assistant, United Nations University (UNU-EGOV), Portugal
Biographical Statement
Charmaine Distor is a Junior Research Assistant at the United Nations University (UNU-EGOV). She graduated with a degree of Global Master of e-Government and Public Management from Yonsei University in the Republic of Korea under the Korea International Cooperation Agency (KOICA) scholarship with a thesis entitled "A Study on Citizens' Utilization of Government-Initiated Sharing Economy during a Public Health Crisis: The Case of a Philippine Local Government-Led Buy and Sell Facebook Group".
She also holds a Bachelor of Science in Development Communication from the University of the Philippines. Prior to working in UNU-EGOV, she worked as a Section Chief and Project Development Officer at the Department of Information and Communications Technology – Philippines which oversees programs aiming to develop the Philippine ICT industry ecosystem. She also worked at the Municipal Government of Carmona, Cavite in the Philippines as the Officer-in-Charge managing its Municipal Information, Tourism, Culture and Arts Office.
Besides her experience in public service in the national and local government agencies, she is also a co-founder and the Research and Development lead for AI4GOV, a social tech startup dedicated to improve public services and promote citizen participation through automation, data science, and community organizing.