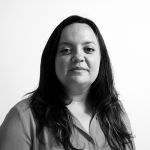 INSTITUTE:

UNU-EGOV

OFFICE:

Rua de Vila Flor 166, 4810-445 Guimarães, Portugal

E-MAIL:

eliane.torres@unu.edu

PHONE:

n/a
Research Interests
e-Democracy
e-Participation
e-Voting
Elections
Education
European Master, Human Rights and Democratisation, European Inter-University Centre for Human Rights and Democratisation, Italy (2006)
Post-Graduation, Humanitarian Aid and Co-operation, Universidade Moderna, Portugal (2005)
Bachelor's Degree, Law, Universy of Minho, Portugal (1999)
Appointments
Research Consultant, UNU-EGOV (Portugal)
Biographical Statement
Eliane Torres is currently an Senior Analyst Outreach and Programme Development at UNU-EGOV. She has more than 12 years of professional experience in the development field during which she provided technical advice, including Roadmaps and Strategic Planning, to Civil Society Organisations, Electoral Management Bodies, Legislatures Institutions, Independent Commissions, Government Administration and Regional Networks. Eliane has acquired a comprehensive overview and hands-on knowledge in trends and specialities on democratic governance and the way in which it relate to areas such as elections affairs, legal framework and reform, parliamentary development, civic engagement, women empowerment, anti-corruption developments, e-governance and participatory democracy, among others.
Expert in Capacity Building and certified BRIDGE Accrediting Facilitator (Building Resources in Democracy, Governance and Elections), she is a recognised trainer with experience in training of trainer, curriculum development, exchange of experiences, consultations and numerous workshops, all duly tailored to specific contexts and target groups.
Eliane has extensive expertise in projects/programmes identification, development, implementation, monitoring and evaluation for different organisations (EU, UN, USAID, World Bank). Since 2019, she is an Evaluation Expert for the Horizon Programme of the European Commission.
Eliane is fluent in English, French and Portuguese. She holds the UNESCO funded European Master in Human Rights and Democratisation as well as a Law degree from the Minho University in Portugal.