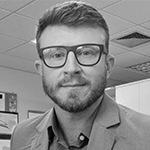 INSTITUTE:

UNU-EGOV

OFFICE:

Rua de Vila Flor 166, 4810-445 Guimarães, Portugal

E-MAIL:

erico.prz@unu.edu

PHONE:

n/a
Research Interests
Digital Governance
Smart Cities
Smart Urban Governance
Education
PhD, Business Administration, Getúlio Vargas Foundation, Brazil (2019)
MSc, Business Administration, Pontifical Catholic University of Paraná, Brazil (2014)
BSc, Business Administration, Pontifical Catholic University of Paraná, Brazil (2010)
Appointments
Research Associate, United Nations University (UNU-EGOV), Portugal
Programme Committee Chair, Sustainable Cities and Communities Track, Encontro Nacional da Anpad, Brazil
Biographical Statement
Erico Przeybilovicz is a Research Associate at the United Nations University (UNU-EGOV). His research interests lie at the intersection of information systems, particularly e- Government, digital and smart governance, e-Participation, smart sustainable cities, and public administration. He has extensive experience working on research projects about smart cities. For instance, the Local Online Service Index develop in 53 Brazilian cities.
From 2020 to 2021, he coordinated a multi-disciplinary team to develop a Smart City Maturity Model for the Brazilian Ministry of Science, Technology, and Innovations. From 2015 to 2019, he worked on the international project Smart Urban Governance for Sustainable Cities, developed in partnership with Fundação Getulio Vargas, Utrecht University, and Stirling University. In 2015 he worked in the project "Smart Cities: Transformação Digital de Cidades" to understand the variables with the most significant impact on smart city projects and the perception and priorities of citizens, specialists, and public managers in 15 Brazilian cities. He also has experience working as a teacher in smart cities, e-government, and smart governance. He has worked as a public servant for the Curitiba Municipality and Paraná State Government, both In Brazil.
Dr Erico Przeybilovicz holds a PhD in Business Administration from Fundação Getulio Vargas, Brazil, with a visiting period at Utrecht University School of Governance. He also leads the Sustainable Cities and Communities track at Encontro Nacional da Anpad, the largest Brazilian academic congress in Business Administration.