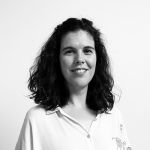 INSTITUTE:

UNU-EGOV

OFFICE:

Rua de Vila Flor 166, 4810-445 Guimarães, Portugal

E-MAIL:

joana.carvalho@unu.edu

PHONE:

n/a
Research Interests
EGOV Measurement and Monitoring
Governance networks
Local governance
Social Sector
Education
PhD, Information Systems and Technology, University of Minho, Portugal (ongoing)
MSc, Information Systems Engineering and Management, University of Minho, Portugal (2013)
BA, Informatics Engineering, University of Minho, Portugal (2011)
Appointments
Senior Research Assistant, United Nations University (UNU-EGOV), Portugal
Invited Assistant Professor, University of Minho, Portugal
Biographical Statement
Joana Carvalho is a Senior Research Assistant at the United Nations University (UNU-EGOV). She is also an invited assistant Professor at the University of Minho, and a PhD student in Information Systems and Technology. Her PhD research focuses on the establishment of networks of public institutions with other types of organizations to support social sector action. Previously, Joana worked in a consulting company for innovation and internationalisation of small and medium organisations.
She graduated in Informatics Engineering and holds a master's degree in Engineering and Management of Information Systems on the topic of Enterprise Architecture in public organizations, both from the University of Minho.
Currently, one of her research interests is the measurement and monitoring of EGOV initiatives, particularly, she has been working on the development of an instrument for hospitals' website assessment. Other interests are oriented to the establishment of governance networks. Specifically, she focuses her attention on the local government level and the social or third sector action happening in cities.