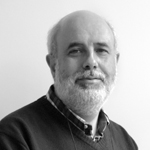 INSTITUTE:

UNU-EGOV

OFFICE:

Rua de Vila Flor 166, 4810-445 Guimarães, Portugal

E-MAIL:

carvalho@unu.edu

PHONE:

n/a
Research Interests
Fundamentals of information systems
Information system curricula and education
Information technology-driven enterprise development
Research approaches and methods
Education
PhD, Information Systems, University of Manchester Institute of Science and Technology, United Kingdom (1991)
BA, Informatics and Systems Engineering, University of Minho, Portugal (1983)
Appointments
Full Professor at the Department of Information Systems, School of Engineering, University of Minho
Researcher at Centro ALGORITMI, University of Minho
Biographical Statement
João Álvaro Carvalho is Adjunct Professor at the United Nations University (UNU-EGOV). He is also a Full Professor at the Department of Information Systems, School of Engineering, University of Minho and a researcher at Centro ALGORITMI, University of Minho.
His academic interests are focused on the fundamentals of information systems and on enterprise development interventions that involve the adoption, use and exploitation of information technology. He is also interested in research approaches and methods and in information systems curricula and education. The results of his work have been published in book chapters, journal articles and conference proceedings. He has supervised around 20 doctoral students and more than 30 master's degree students.
Dr. Carvalho was one of the founders of the Information Systems Department at the University of Minho – the academic unit that promotes education, research and outreach activities in information systems. He was involved in the design of most of the degree programs promoted by the department and in their coordination. He has been department chair, Vice-Dean of the School of Engineering and President of the School's Council.
He has most recently been a member of the advisory board of GPTIC, a Portuguese national initiative addressing the rationalization of IT use in public administration; and member of an international task force promoted by AIS and ACM for the revision of existing curricula recommendations for masters in Information Systems.