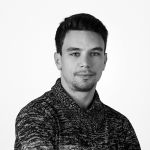 INSTITUTE:

UNU-EGOV

OFFICE:

C1-16, Campus de Couros, Rua de Vila Flor 166, 4810-445 Guimarães, Portugal

E-MAIL:

joao.martins@unu.edu

PHONE:

n/a
Research Interests
e-Government
Political economy
Public economics
Education
PhD, Economics, University of Minho, Portugal (ongoing)
MSc, Economics, University of Minho, Portugal (2015)
BA, Economics, University of Minho, Portugal (2013)
Appointments
Academic Fellow, UNU-EGOV
Invited Professor, School of Economics and Management, University of Minho
Research Assistant, School of Economics and Management, University of Minho
Biographical Statement
João Martins is currently an Academic Fellow at UNU-EGOV. He is also an Invited Professor and a PhD student in Economics at the University of Minho. He holds a Master's degree in Economics (2015) and a BA also in Economics (2013), both diplomas from the University of Minho. As a Professor, João has lectured the courses of Public Finance and International Monetary Economics at the University of Minho.
His main research interests are in the areas of Public Economics, Political Economy, and e-Governance. He participated in projects funded by the Fundação Francisco Manuel dos Santos and the European Social Fund regarding topics such as term limits, Portuguese local governments and local finances, voter turnout or dual training systems. He is presently focusing on applying econometric methods to study the socioeconomic effects of e-Government and the determinants of e-Government and e-Services use. João has been a member of the programme committee of several conferences in the e-Government field, such as ICEGOV, DTGS, and EGOSE.
Besides his research and academic activities, he has also a semi-professional football career for more than 10 years. He won a gold medal at the European University Games in Zagreb (2016) and a bronze medal at the European Universities Football Championship in Osijek (2015).