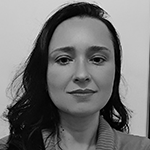 INSTITUTE:

UNU-EGOV

OFFICE:

Rua de Vila Flor 166, 4810-445 Guimarães, Portugal

E-MAIL:

larissamagalhaes@unu.edu

PHONE:

n/a
Research Interests
Digital Government
Digital transformation
Emerging technologies
Open government and open data
Education
PhD, Political Science, State University of Campinas, Brazil (2018)
MSc, Social Science, Federal University of Espírito Santo, Brazil (2013)
Appointments
Research Associate, United Nations University (UNU-EGOV), Portugal
Research Associate, Getúlio Vargas Foundation, Brazil
Biographical Statement
Larissa is a Research Associate at the United Nations University (UNU-EGOV). She is also researcher in Digital Policies at CyberBRICS, School of Law, Getúlio Vargas Foundation. Her research is located between government technology and innovation, with a special focus on open data, smart cities, and digital transformation strategies.
Larissa holds a Ph.D. in Political Science from the State University of Campinas and analyzed open government in the city of São Paulo. She obtained a post-doctorate in Data Science in Social Sciences of the Getúlio Vargas Foundation, and, in Sociology when she was involved with the Environmental Disaster Network.
Larissa accumulated activities as a fellow at the Southern Cyber School on Internet Governance of the Organization of American States. She was a visiting researcher at the University of Montreal as a fellow of the Future Leaders in the Americas and Caribbean Program. Currently, she is a professional fellow for the Getulio Vargas Foundation for Europe.
Larissa has been working with organizations related to data for the public good, such as the Latin American Initiative of Los Data Abiertos and Global Data Barometer.