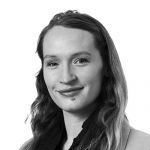 INSTITUTE:

UNU-EGOV

OFFICE:

Rua de Vila Flor 166, 4810-445 Guimarães, Portugal

E-MAIL:

tetley-brown@unu.edu

PHONE:

n/a
Research Interests
Digital transformation
E-governance
ICT and Interoperability
Research approaches and methods
Education
PhD, Local Government Data Culture & Digital Transformation, University of Glasgow, United Kingdom (ongoing)
MSc, Environmental Studies & Sustainability Science, Lund University, Sweden (2009)
BA, Jurisprudence / Law, University of Oxford, United Kingdom (2006)
Appointments
Research Consultant, UNU-EGOV (Portugal)
Graduate Teaching Assistant, Qualitative Methods, School of Social & Political Sciences, University of Glasgow (Scotland)
Leverhulme Trust Doctoral Scholar, Sociology, College of Social Sciences, University of Glasgow (Scotland)
Biographical Statement
Lucille is currently a Research Consultant at UNU-EGOV. Therein, she primarily works to support evaluation of ICT projects and online services, making analysis of comparative e-Government globally. She is also completing her PhD on the theme of Using Data to Transform Public Services at the University of Glasgow. Her academic work entails examining local government processes for utilising datasets (quantitative and qualitative) for public service delivery. Alongside a focus on how data is used for improving decision-making and empowering service users, her PhD is examining various barriers to adoption of new methods for using data and then applying data-derived insights. Whilst based at the University of Glasgow she has held roles as a Research Associate for Policy Scotland (2019) and as a Graduate Teaching Assistant within the School of Social and Political Sciences (2020/21).
Lucille has presented conference papers in Sweden at International Sustainability Transitions (Lund University, 2011); in the UK for Cultural Legitimacy for Climate Change Law and Policy (Surrey University, 2011); and in Turkey at Environmental Management for Sustainable Universities (Boğaziçi University, 2013). She co-authored Voluntary Social Movements and Sufficiency Policies for Climate Change Adaptation in International Climate Change Law and Policy: Cultural Legitimacy in Adaptation and Mitigation; Routledge Research in International Environmental Law (2014). In association with Stirling University's Centre for Research into Internet, Surveillance and Privacy (2015 – 2019) Lucille sat on the Advisory Board for SmartGov: Smart Governance of Sustainable Cities. This was a 4-year programme funded by research councils in the UK (ESRC), the Netherlands (NWO), and Brazil (FAPESP), which examined the use of smart technologies to collectively engage in the re-design and shaping of local services, sustainability initiatives, and urban development.
Prior to commencing her PhD research, Lucille left a job at Glasgow City Council, leading the Smart Cities efforts for the Scottish Cities Alliance across all seven Scottish cities. In 2013 she led Community Engagement for Future City Glasgow, the £24 million Future Cities Demonstrator Programme, funded by Innovate UK. She has also served as Sustainability Advisor to the Mayor and a Guest Lecturer for the Hatta Sjahrir Marine Institute, in Banda Neira, Indonesia.