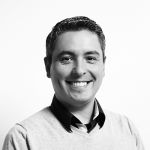 INSTITUTE:

UNU-EGOV

OFFICE:

Rua de Vila Flor 166, 4810-445 Guimarães, Portugal

E-MAIL:

ramos@unu.edu

PHONE:

n/a
Research Interests
Cybersecurity
Emerging technologies
Intellectual property
Law and Technology
Privacy and Data Protection
Education
PhD, Law, University of Minho, Portugal (ongoing)
LL.M., Law and Informatics, University of Minho, Portugal (2019)
MBA, Franciscana University, Brazil, (2008)
LL.B., Law, Franciscana University, Brazil, (2011)
Bachelor, Business Administration, Santa Maria Federal University, Brazil (2005)
Appointments
Research Assistant, UNU-EGOV (Portugal)
Biographical Statement
Luis Felipe Ramos is currently a Research Assistant at UNU-EGOV. He is also a PhD student in Law at the University of Minho. He holds a Masters' degree in Law and Informatics (2019) from the University of Minho (Portugal) and an MBA (2008) from the Franciscana University (Brazil). His main research interests are in the areas of law and informatics, privacy and data protection, cybersecurity, emerging technologies and intellectual property.
He has previously worked in the Brazilian judicial branch, at the federal and state levels, both as assistant to judges and later as an appointed counsel. In the private sector, he has worked as Director of Legal and Business Affairs at a biotechnology startup in Brazil and as a private lawyer, specialized in civil and criminal litigation, with expertise in intellectual property, corporate law, labour law and social security.
He is currently focused on the legal framework regarding emerging technologies and its impact on personal data and privacy.