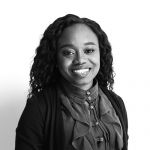 INSTITUTE:

UNU-EGOV

OFFICE:

Rua de Vila Flor 166, 4810-445 Guimarães, Portugal

E-MAIL:

makpor@unu.edu

PHONE:

n/a
Research Interests
E-governance
Gender Mainstreaming
Inclusion
Sustainability
Education
PhD, Business Administration, University of Minho, Portugal (2019)
MA, International Economy and Business, Corvinus University of Budapest, Hungary (2014)
BSc, Accounting, University of Benin, Nigeria (2007)
Appointments
Senior Research Assistant, United Nations University (UNU-EGOV), Portugal
Consultant, International Network for Corporate Social Responsibility (IN-CSR)
Consultant, Extractive360
Biographical Statement
Mercy Erhi Makpor is a Senior Research Assistant at the United Nations University (UNU-EGOV). Her primary research area is in Digital Governance with specialism in Digital Inclusion, Gender Equality and Social Inclusion. She also has robust expertise in Ethics and Corporate Social Responsibility particularly pertaining to supply chain mapping, third party relationships, stakeholder engagements, and effective CSR integration in the Extractive Sector.
Prior to joining the UNU-EGOV, she has had over a decade of experience in policy consultancy, academia, and working with professionals in Africa, Asia, Europe, United States of America, North, and South America. Mercy's current research at UNU-EGOV is in the following areas: Digital Inclusion (marginalized, vulnerable, and under-represented groups); Gender mainstreaming, gender equality, equity, diversity, and intersectionality.
She has authored and co-authored several scientific papers and published in international peer reviewed journals. She has chaired at conferences and delivered lectures to government and private officials, in the following areas: Innovation and Digital Governance; Change Management and E-Governance; Digital Government Transformation. She also teaches these topics at Postgraduate Level of the Integrated Masters in Information Systems Engineering and Management at the University of Minho. She is a Reviewer for major conferences and journals on Electronic/Digital Governance.