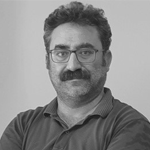 INSTITUTE:

UNU-EGOV

OFFICE:

Rua de Vila Flor 166, 4810-445 Guimarães, Portugal

E-MAIL:

nacikarkin@unu.edu

PHONE:

n/a
Research Interests
e-Participation
ICT for development
Public sector innovation
Social media
Education
PhD, Public Administration, Akdeniz University, Turkey (2007)
MSc, Public Administration, Pamukkale University, Turkey (2003)
BSc (Hons), Political Science & Public Administration, Middle East Technical University, Turkey (2001)
Appointments
Senior Research Associate, United Nations University (UNU-EGOV), Portugal
Biographical Statement
Naci Karkin is a Senior Research Associate at the United Nations University (UNU-EGOV). He has experience as an academic scholar in information and communications technologies (ICT) in the discipline of public administration. He moved to UNU after twenty-one years as a faculty member in the department of Political Science and Public Administration at Pamukkale University.
His main research interests include e-government, social media, e-participation, ICT4D, and public policymaking. Dr. Karkin has many publications in the ICTs and public administration field, book chapters of international publishing houses like Springer, Nova, IGI Global, and Edward Elgar, and has articles published in top information science journals like International Journal of Information Management, Government Information Quarterly, Information Technologies for Development, Information Polity, and Asia-Pacific Journal of Public Administration.
Dr. Karkin has participated in many conferences as an author, reviewer, and member of the organization committees such as ICEGOV, AMCIS, eGOV, and Dg.o.