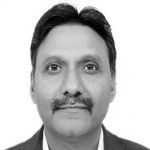 INSTITUTE:

UNU-EGOV

OFFICE:

n/a

E-MAIL:

kamtam@unu.edu

PHONE:

n/a
Research Interests
Digital inclusion
Digital transformation
Smart Cities
Education
PhD, Environmental Sciences)-People-Centric Inclusive Smart Cities, University of Hertfordshire, United Kingdom (2022)
MBA, Business Administration, Pondicherry Central University, India (2016)
BS, Mechanical Engineering, Acharya Nagarjuna University, India (1992)
Appointments
Digital Transformation Consultant, UNU-EGOV, Portugal
Biographical Statement
Prakash Kamtam is a Digital Transformation Consultant at UNU-EGOV with 26+ years of experience in digital transformation in the public sector. Earlier worked in leadership positions as an Indian Civil Services officer and later as an independent consultant leading mission mode projects of UN Global Compact Cities Programme (Australia), UNDP (India), DFID (UK) and other independent foundations.
He extensively worked across key stages of the digital transformation lifecycle, such as the creation of visionary roadmaps, process optimisation, policy innovation, design of citizen-centric digital services, development of integrated digital platforms, and e-Participation including workforce enablement. He advocates digital transformation as a continuous innovative change requiring an equal emphasis on strategy, technology, and culture.
He is a strong advocate of UN-SDGs with a passion for mainstreaming the inclusion of vulnerable and disadvantaged communities in the overall development plan. With this passion, he recently finished a PhD in the UK- focusing on strategies and techniques for designing 'People-centred Inclusive Smart cities'. His future motivation is to work on digital inclusion, assistive technologies, and inclusive digital transformation agenda, which is the required global mandate for sustainable development.