2017•11•24 Guimarães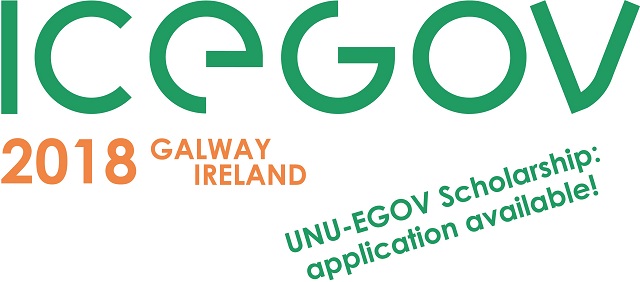 As part of its commitment towards inclusive social development and to foster diversity in the research networks, UNU-EGOV is providing a number of Scholarships for authors of accepted papers for the 11th International Conference on Theory and Practice of Electronic Governance (ICEGOV2018).
The conference, which will take place in Galway, Ireland, from 4 to 6 April 2018, is coordinated by UNU-EGOV annually. This year's edition is co-organized by the National University of Ireland Galway and the Insight Centre for Data Analytics, with UNESCO acting as collaborator. The patron is the Department of Public Expenditure and Reform (Government of Ireland).
A total of 180 papers were submitted, of which 116 were accepted after a rigorous blind peer-review process. 66% percent of the papers submitted are from authors of developing countries. The Scholarship, a practice already established in previous editions of the conference, is intended to support authors from such countries to attend and present their papers, contribute to and participate in the various sessions, and network with people from different sectors of EGOV during the 3 days of the conference. The application period for the Scholarship ends on 27 November 2017.
For more information and to apply, please visit the ICEGOV website.