2018•09•21 Baltimore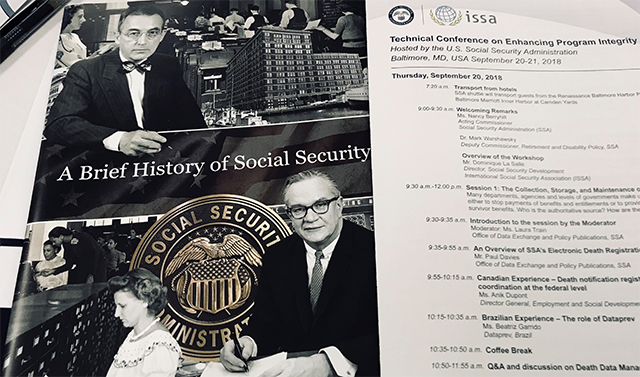 Technical Conference on Enhancing Program Integrity
---
Today, 1.1 billion people do not have a formal identity and a staggering 50% of the world population does not have access to social security. At the same time, the number of 60+ year old will double to 2 billion by 2050 and the high levels of youth unemployment limit the funds available for public services. Technology-driven efficiency and effectiveness in service production and delivery is part of the solution to these challenges and the Sustainable Development Goals. Secure and reliable identity management is a key enabler in the digital transformation of public service delivery, but many countries still battle.
In this context, UNU-EGOV is actively researching several elements in relation to physical and, particularly, electronic identity management and public service production and delivery. As part of the ongoing work of the International Social Security Associations, researcher Morten Meyerhoff Nielsen was invited to give two presentations at the Technical Conference on Enhancing Program Integrity hosted by the U.S. Social Security Administration, in Baltimore, from 20 to 21 September 2018.
Morten's first presentation focused on trends and solutions in electronic identity management, the strengths and weaknesses of technical solutions like ID and sim-cards options, SMS, OTP, and APP based solutions. Equally important are the trust relationships and partnership models to ensure the maintenance of identity data, continued authentication and validation of identities, data quality and exchange in this context. In his second presentation, Morten highlighted the efficiency and effectiveness of service production and delivery achievable though electronic identification and authentication. Highlights included the benefits being achieved by once-only data sharing principles in Europe, as well as how efficiently managed identity management and data exchange enables more personal and proactive service delivery both on- and off-line.