2020•06•23 Guimarães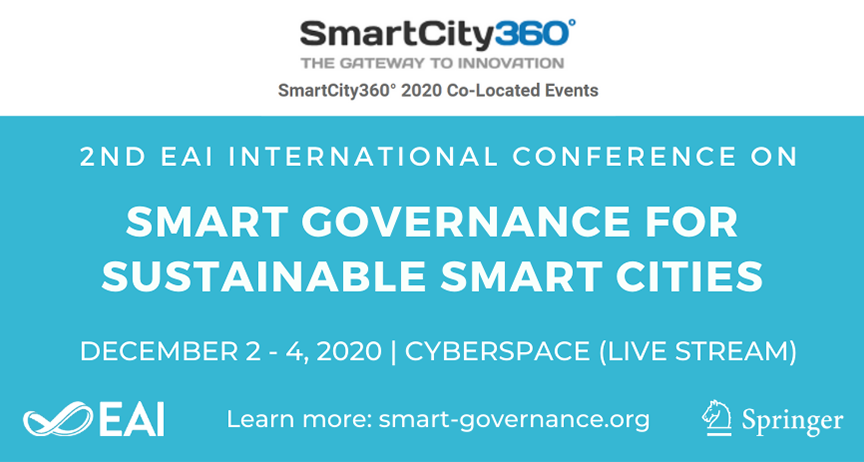 ---
The Call for Papers for the upcoming 2nd EAI International Conference on Smart Governance for Sustainable Smart Cities – EAI SmartGov 2020 – is now underway and authors can submit their work until 23 July 2020.
All registered papers will be submitted for publishing by Springer and made available through SpringerLink Digital Library. Proceedings will be submitted for inclusion in leading indexing services, Ei Compendex, ISI Web of Science, Scopus, CrossRef, Google Scholar, DBLP, as well as EAI's own EU Digital Library (EUDL).
SmartGov 2020 provides an opportunity for researchers and practitioners to meet and share ideas, experiences and results related to all aspects and dimensions of smart governance, and the design, implementation and monitoring of smart cities and settlements, including, but not restricted to:
Smart governance foundations, models, frameworks and principles
Smart governance practices, dynamics, challenges and trade-offs
Alignment of city policies with social and environmental sustainability goals
Governance of transformation processes
Measurement and monitoring of smart governance process and outcomes
Smart governance-related case-studies and experience reports
Citizen-centricity and citizen-driven solutions for smart cities
Co-production and collaborative forms of service design and delivery
Open governance, participatory decision making and accountability
Social media and urban awareness
Urban innovation, new business models, legal and normative frameworks
Data and evidence-based policymaking
Urban big data from heterogeneous sources
Impact of emerging technologies (e.g. AI, machine learning, blockchain, sensor networks, intelligent transportation systems)
Challenges of privacy and security
For more information, visit the conference website or access the Call For Papers.