2018•09•20 Krems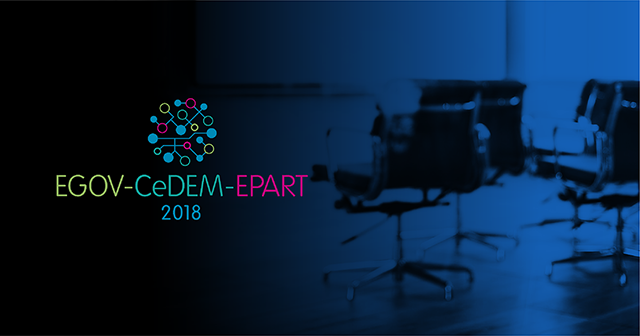 The city of Krems an der Donau, in Austria, welcomed the first edition of the EGOV-CeDEM-ePart conference, which took place from 3 to 5 September. Hosted by the Danube University Krems, a public university founded in 1994, this year's edition represents the merge of three other conferences that have ran in the past: the IFIP WG 8.5 Electronic Government (EGOV), the IFIP WG 8.5 Electronic Participation (ePart), and the Conference for E-Democracy and Open Government (CeDEM).
EGOV-CeDEM-ePart focuses mostly on the topics of e-Government, Open Government, e-Participation and e-Democracy. However, it also covers other subjects, such as the role of social media, digital transformation in society, artificial intelligence, policy information, smart governance, and social innovation. An interdisciplinary approach to the conference topics is also welcome. With that in mind, a number of papers were successfully accepted and presented by UNU-EGOV researchers at the conference, covering different topics. Each paper is also published as part of the conference proceedings: 1) and 2) in the Electronic Government proceedings (Elsevier) and the remaining papers on the main conference proceedings (university's publisher Donau-Universität Krems).
1. The War on Corruption: The Role of Electronic Government (João Martins, Bruno Fernandes, Ibrahim Rohman, Linda Veiga)
This paper explores the relationship between electronic government and corruption. The main hypothesis is that digital government can increase the availability of information on public sector, making it more difficult to engage in corrupt activities without being caught. Based on a dataset that covers more than 150 counties, the authors find that a higher e-Government Development Index is associated with better corruption outcomes.
2. Who Is Measuring What and How in EGOV Domain? (Joana Carvalho and Delfina Soares)
Governments around the world have accepted information and communication technology as a facilitator to reform, transform and modernize the governance activity – EGOV. Although EGOV is accepted to bear several benefits, government accountability demands its measurement and assessment for management and improvement. Many tools and instruments have been proposed by researchers This work intends to answer the issues related to EGOV measurement and assessment by characterizing the literature available and, afterwards, generate a strong base of knowledge oriented towards the creation of a future catalog of tools and instruments for EGOV evaluation, and to present a conceptual framework to support the choice of an adequate tool from such catalogue.
3. The Digital Divide: The Impact of Internet Price Quality on Online Service Use in Europe since 2008 (Morten Meyerhoff Nielsen, Ibrahim Rohman, Nuno Lopes)
This research paper explores the following question: What is the influence of the relative price-quality ratio of Internet access in Europe and does this affect the use of Internet content like online commerce, Internet banking, and public-sector service offers online? To answer this question, the paper uses ITU data from 34 European countries between 2008 and 2015, to run a number of correlations. The aim is to grasp the potential tendencies and associations between aspects which could affect the digital divide and Internet usage. While focusing on Europe, the results bring nuances to past research and is relevant to developing countries.
4. Global Challenge of Identity: Blockchain E-ID System for a Sustainable Development and Good Governance (Soumaya Ben Dhaou, Ibrahim Rohman)
This paper aims to present a first reflection on the analysis of Identity global challenges and the implications of adopting platforms technologies such as Blockchain. There is a significant challenge involved identity worldwide. The e-Id is often presented as a potential enabler for sustainability, inclusive society and better governance and e-governance. However, the management and organisation of e-Id remain a dominant issue, particularly in the context of e-government and online public service delivery.
5. Pakistan Smart Cities Context: Lahore and Multan (Nuno Lopes, Shahid Farooq)
This paper analyses the readiness of Lahore and Multan Pakistan cities for starting smart city (SC) transformation. The methodology used was a case-oriented comparative research drawn on a conceptual framework for facilitating the analysis. The findings indicate that both cities have strong grounds for SC transformations and that Pakistan is entering in the SC concept very slowly.
6. Bridging between Policy-Making and Academic Research: A Within-Case Analysis of the International Rankings for Justice (Soumaya Ben Dhaou, Mariana Lameiras, Delfina Soares, Ibrahim Rohman)
This paper aims to demonstrate the added value of academic and scientific research in policy-making through the presentation of a multidisciplinary mixed methodology. This approach is illustrated with a specific study on the judicial system as an enabler of economic development and growth. The purpose was to understand how judicial systems facilitate economic development and growth, identify the factors explaining this relationship, and act upon them in order to improve the ranking of a country in European and international Justice indexes.