2018•12•04 Guimarães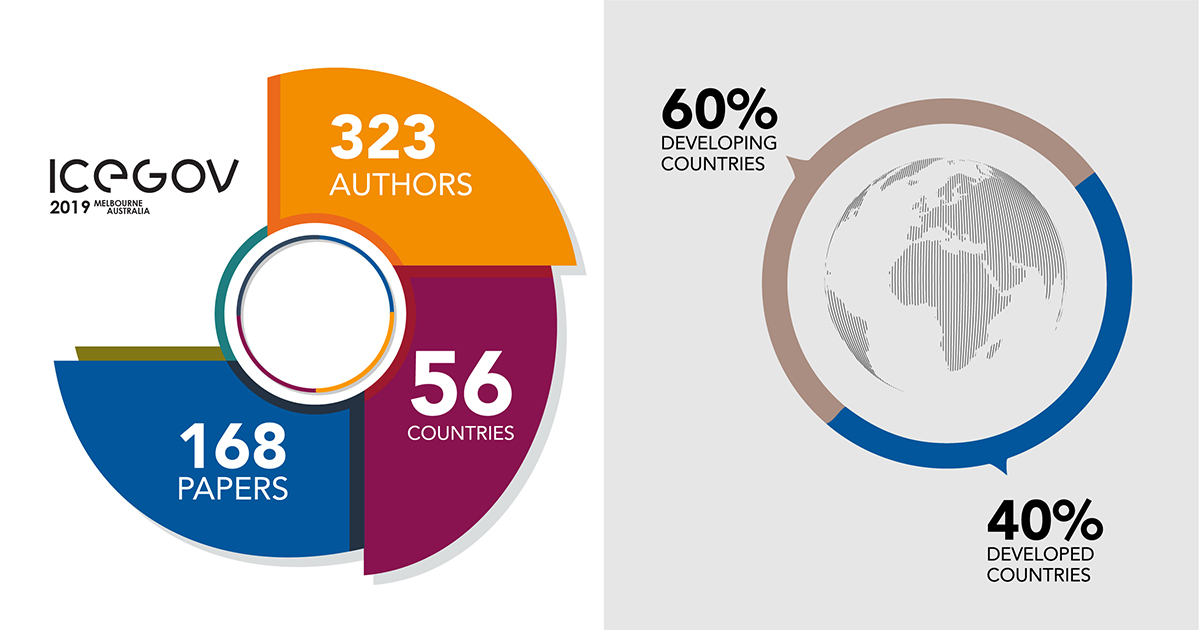 ---
The Call for Papers for ICEGOV2019 has now ended and a few facts and figures are available. From early July to mid-November (5 months), a total of 168 papers were submitted, making next year's conference the third-most submitted ICEGOV conference thus far. The breakdown of papers per category was:
Complete research papers: 90 (53.5%)
Ongoing research papers: 30 (17.9%)
Experience papers: 35 (20.8%)
Doctoral papers: 4 (2.4%)
Poster papers: 9 (5.4%)
Regarding the number of authors, ICEGOV2019 saw a total of 323 unique authors writing and submitting their research papers. These authors come from 56 different countries covering all 5 continents, again showing that ICEGOV is a truly global conference.
Of all these countries, 24 are considered developed countries and 34 are considered developing countries (according to data from The World Bank). In more detail, 60% of the authors come from developing countries (192 people) and 40% of the authors come from developed countries (131 people).
If we look at the breakdown from a continental perspective, Asia tops the chart with 20 countries represented and 138 authors in total, followed by Europe with 16 countries and 87 authors. Africa and the Americas share similar numbers – 10 countries and 30 authors, and 8 countries and 42 authors, respectively. Finally, Oceania pops-in with 26 authors split between Australia and New Zealand, showing that the local representation at the conference will be similar to previous other years.
All submitted papers are currently going through a rigorous screening and double-blind peer-review process. The notifications regarding paper acceptance/rejection will be issued to all authors on 17 December.
---
12th edition of ICEGOV is set for Melbourne, Australia
For the first time ever, the ICEGOV conference will go "down under" and visit Australia. To be held from 3 to 5 April 2019, the conference is jointly organized by the Royal Melbourne Institute of Technology (RMIT University) and the United Nations University Operating Unit on Policy-Driven Electronic Governance (UNU-EGOV). The conference theme is Exploring Digital Government Synergies to Foster Equality, Inclusiveness, and Productivity.
Important upcoming dates
Paper acceptance / rejection notification: 17 December 2018
Authors registration deadline: 25 January 2019
Camera-ready paper submission deadline: 25 January 2019
Doctoral Colloquium and Workshops: 2 April 2019
For more information and upcoming announcements of keynote speakers and the programme, please visit the official website or follow us on Facebook.