2022•11•23 Guimarães
The proceedings of the 15th International Conference on Theory and Practice of Electronic Governance are now available in the ACM Digital Library.
---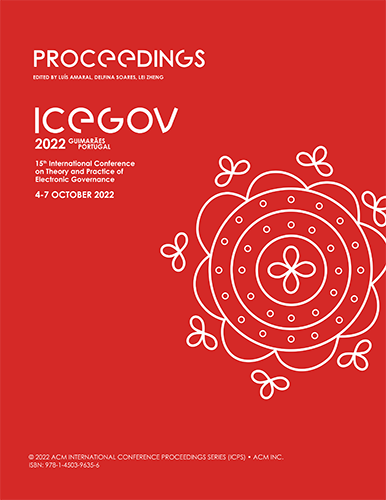 For the second time in its history, the conference was held in Guimarães (Portugal), from 4 to 7 October 2022. After two editions heavily hampered by the COVID-19 pandemic – fully online in 2020 and hybrid in 2021 – the conference returned to an almost entirely on-site, face-to-face event, with very few remote participants, which is a clear sign of a step forwards towards a pre-pandemic reality.
Edited by Luís Amaral, Delfina Soares, and Lei Zheng (Programme Committee Chairs), the 620 pages-long proceedings comprise a total of 91 papers written by 228 authors from 37 different countries. The publication is divided into ten thematic sections (Tracks):
Frontier technologies for a new era of governance
Privacy, security, legal informatics, and ethics for trustworthy institutions
Digital transformation and innovation of public services and governments
Open government, civic participation, and engagement
Digital governance measurement, assessment, and monitoring
Inclusive, equitable, and resilient governments for the SDGs
Smart sustainable cities, regions and communities
Doctoral Colloquium
Industry and Public Sector
Poster Exhibition
---
Under the theme Digital Governance for Social, Economic, and Environmental Prosperity, ICEGOV 2022 focused on contributing to the debate, reflection, knowledge generation, and systematisation and sharing on how digital technologies can be effectively harnessed to foster prosperity and development. At the same time, the conference contributed towards a more inclusive, just, resilient, and trustworthy world where no one is left behind, in a tight and proper alignment with the discussions and actions that have been instigated and promoted by the United Nations Secretary-General and the Member-States.
For more information about the conference, including detailed programme and speakers, please access the conference website. All Keynotes, High-Level Panels, and Roundtable Sessions are also available on UNU-EGOV's YouTube channel here for viewing.
The next edition of the conference will be held in Belo Horizonte (Brazil), in October 2023. The Call for Papers is expected in January next year.