2020•11•03 Guimarães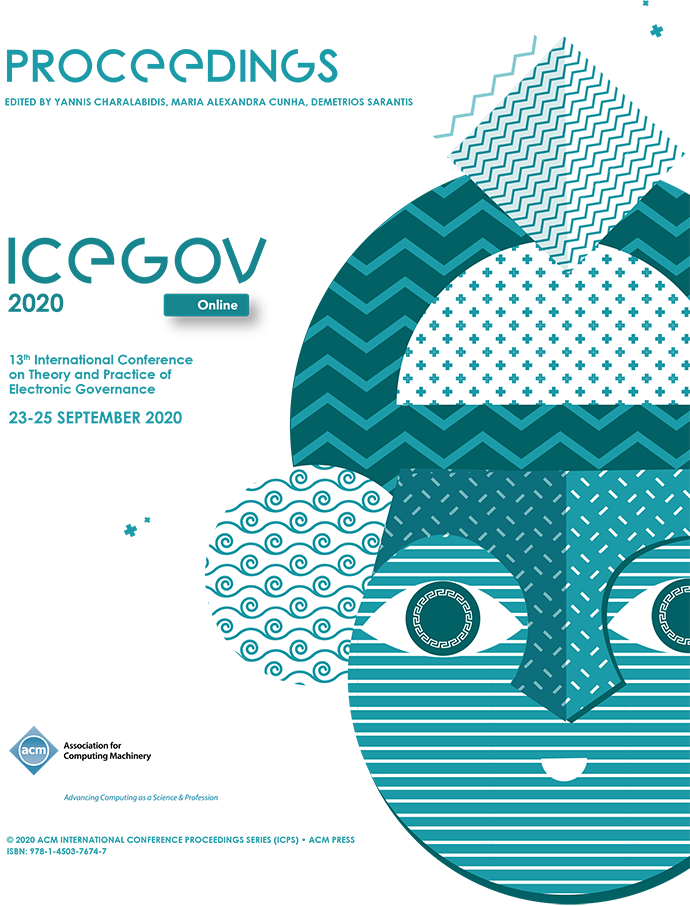 The proceedings of the 13th International Conference on Theory and Practice of Electronic Governance (ICEGOV 2020) are now available in ACM's Press Digital Library.
Originally scheduled to take place in Athens from 1 to 3 April 2020, the conference was held instead on 23-25 September as a fully online, real-time event due to the COVID-19 pandemic, which brought massive disruption to most countries of the world, including lockdowns, travel bans, and closure of borders, conditions that did not allow people to physically meet, as is usual.
Under the theme Digital Governance in the Era of Disruptive Technologies and Globalisation, ICEGOV 2020 explored how existing and emerging digital technologies can be effectively harnessed to foster inclusiveness, equality, and sustainability, while also addressing the implications and costs associated with the use of such technologies.
Edited by Yannis Charalabidis, Maria Alexandra Cunha and Demetrios Sarantis (Programme Committee Chairs), the 854 page-long proceedings comprise a total of 122 papers written by 308 authors from 37 countries. The publication is divided into thirtheen thematic sections, as follows:
– Artificial Intelligence and Internet of Things in Governance
– Distributed Ledgers and Blockchain Technologies in Governance
– Security, Privacy and Ethics in Digital Governance
– Bridging Research and Practice in Governance and Policy-Making
– Digital Governance in South-East Europe and the Mediterranean
– Digital Governance Assessment Methods
– Digital Transformation of Public Services and Administration
– Open and Collaborative Governance
– Smart Cities and Regions
– Legal Informatics
– Doctoral Colloquium
– Industry and Public Sector
– Poster Exhibition
ICEGOV 2020 was held under the high patronage of the Hellenic Ministry of Digital Governance. The University of the Aegean and the Harokopio University of Athens co-organised ICEGOV 2020 with the United Nations University (UNU-EGOV), which is the conference series coordinator.
For more information, please access the conference website.