2021•06•07 Athens
The Call for Papers for ICEGOV 2021 – the 14th edition of the conference – has now come to an end after four and a half months. Focused on Smart Digital Governance for Global Sustainability in a challenging social, political, economic, and environmental world, the Call targeted both authors and practitioners to submit their latest work for the conference.
All submitted papers are currently going through a rigorous screening and double-blind peer-review process. The notifications of paper acceptance / rejection will be issued to all authors on 21 July. The conference itself is scheduled to occur in Athens, Greece, on 6-8 October, with the Doctoral Colloquium and Workshops being held one day before (5 October).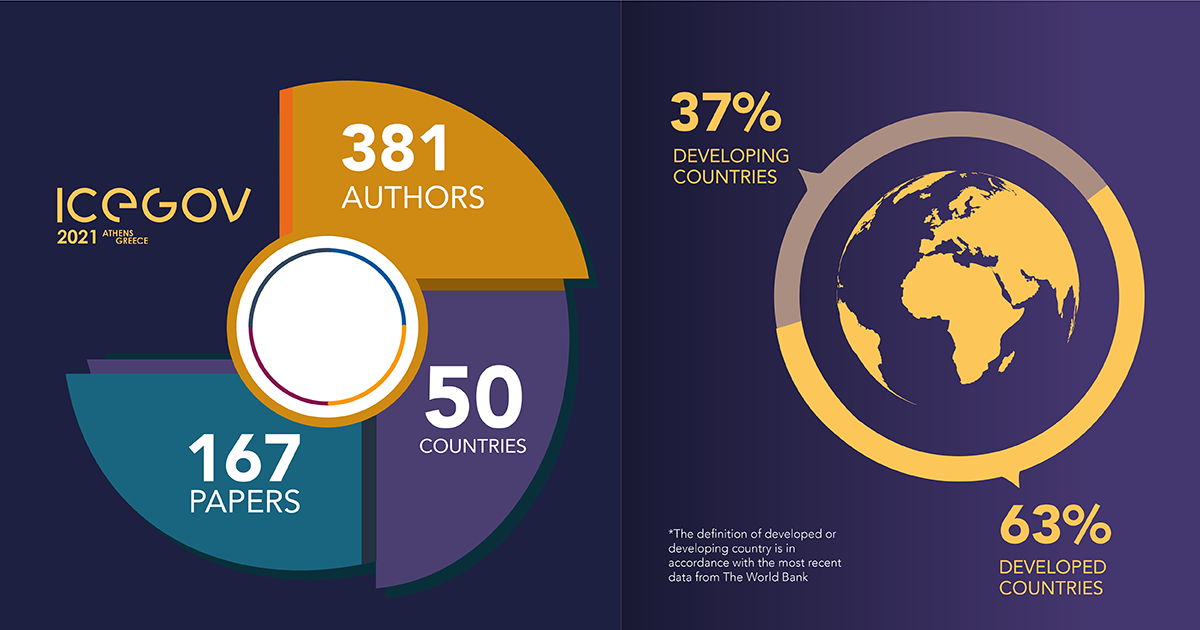 ---
Papers and Tracks
A total of 167 papers were submitted for 14 thematic tracks, of which the majority were research papers. However, a significant number of ongoing research papers and short papers were also submitted, showing that while ICEGOV is mostly an academic conference, it also successfully targets non-academic fields.
Research papers: 85 [51%]
Ongoing research papers: 42 [25%]
Short papers: 40 [24%]
As for the thematic tracks, Track 7: Digital transformation of public services and administration saw the biggest amount of submissions (31), followed by Track 6: Digital governance assessment methods and Track 12: Industry and Public Sector, with 21 papers each. The remaining tracks had a good balance of submissions, including themes as diverse as smart cities and regions, blockchain and emerging technologies, privacy, security, and legal informatics, post-pandemic challenges, open and collaborative governance, among others.
---
Authors
Looking at the authors, a total of 381 submitted their work for this year's conference, which averages 2.3 authors per paper. Universities and research centres represent, as is usual, the majority of submissions, while government officials and people from the industry sector come afterwards with similar numbers. International organisations, mostly from the United Nations system and the European Union, represent about 5% of the authors. The remaining are split between non-governmental organisations and authors without affiliation.
Academia: 301 [79%]
Government: 27 [7%]
Industry: 20 [5%]
International Organisations: 19 [5%]
NGOs: 7 [2%]
Other: 7 [2%]
---
Countries
The balance between developing and developed countries (according to the data from The World Bank), which over the past years tended more towards the developing side, saw a shift this time around, most likely due to the adverse effects of the pandemic: 240 authors (63%) are from developed countries, while 141 authors (37%) are from developing countries. Nonetheless, 50 countries (29/21 split) are represented overall, covering all five continents and yet again showcasing the global aspect of ICEGOV.
Europe topped the charts with 220 authors (58%), while Asia and the Americas followed behind with 69 and 63 authors (18% and 16%, respectively). Africa and Oceania came pretty much together and represent 5% and 3% of all submissions, respectively. Finally, the top five of authors (country-wise) is shown below.
India: 44 [Asia]
Greece: 42 [Europe] (host country)
Portugal: 34 [Europe]
Brazil: 32 [Americas]
Estonia: 17 [Europe]