2018•08•08 Samos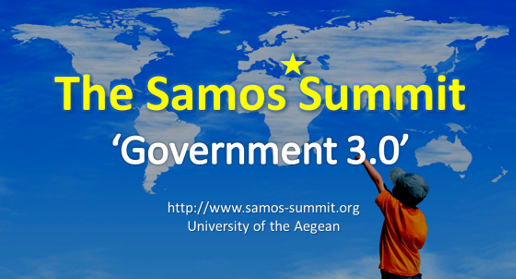 ---
The Greek island of Samos, located in the Aegean Sea, was the stage for two events: the Samos 2018 Summit On ICT-enabled Governance and the International Summer School On Open and Collaborative Governance. Both events took place from 2 to 7 July 2018 and UNU-EGOV researchers Soumaya Ben Dhaou and Demetrios Sarantis attended.
The Summit offered an unprecedented opportunity to see, interact with and influence cutting-edge ICT research projects and initiatives. Attended by high calibre experts from research, administrations, and enterprises worldwide, the Samos 2018 Summit focused on the newest developments of ICT applications in the areas of digital governance, under the main headline "Government 3.0: Defining the next-generation of ICT-enabled governance".
Specific focus in this year's summit was given to the following areas of ICT-enabled governance, aiming at delivering high-level insights on the new roadmap for research and practice:
New technological evolutions in the areas of Artificial Intelligence, Distributed Ledger Technologies, Bots and Agents, Data Mining, Internet of Services and Things;
New models and tools for advanced decision support in public policy making, based on Big Open Data acquisition and processing;
Smart Governance examples from all levels of public administration, especially combining societal citizens' knowledge and effort with information systems;
New epistemological approaches for the main elements of Government 3.0, such as ontological resources and definitions, neighbouring scientific domains, taxonomies of research topics, training curricula, and future roadmaps and foresight;
Soumaya presented a lecture in e-Government and sustainable development. It explained how e-Government plays an essential role in implementing, following-up, and reviewing of the progress made in the 2030 Agenda for Sustainable Development. She also analysed how to align and integrate the 17 Sustainable Development Goals into the e-Government strategy.
Demetrios presented a lecture in e-Government Assessment, which analysed the increasingly important topic of assessment and evaluation in e-Government. Different models, methodologies and approaches were presented.