2021•01•19 Guimarães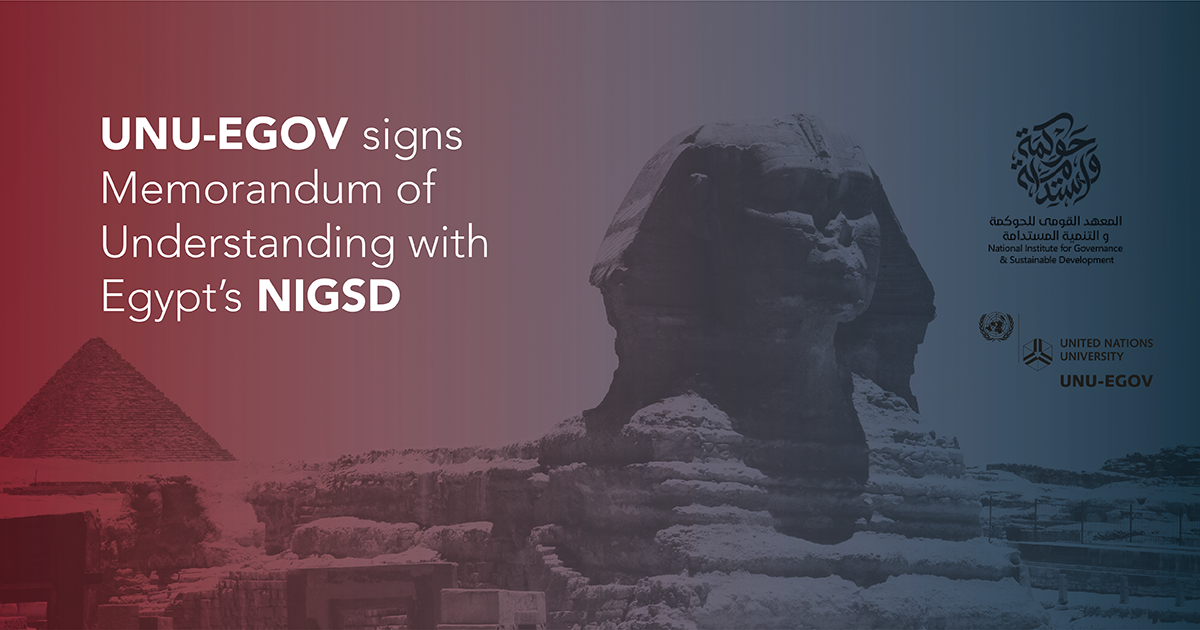 ---
The United Nations University, through its Operating Unit on Policy-Driven Electronic Governance, has recently signed a Memorandum of Understanding (MoU) with the National Institute for Governance and Sustainable Development of Egypt (NIGSD).
The signature of the MoU took place on 12 January 2021, via videoconferencing due to the COVID-19 pandemic. This agreement aims to provide a framework for cooperation that includes areas of common interest in research activities, capacity building, training and advisory services, and the exchange of knowledge and experiences.
The outstanding experience developed by NIGDS over its 14 years of existence will be of extreme value for us. They have been working in the area of governance in Egypt, drawing and enforcing the national strategy for governance, building the capacities of national cadres in governance and sustainable development fields, and supporting the National Sustainable Development Strategy: Egypt Vision 2030. Thus, we recognise the benefits of genuine and substantive cooperation in which our institutions will engage. – Delfina Soares, Head of UNU-EGOV.

The NIGSD is aware of the important role of the United Nations University, given its international stature and cooperation with UN Member-States' governments and the role played by UNU-EGOV as a global think tank dedicated to Electronic Governance and a bridge between research and public policies. Our cooperation with this Operating Unit will support our efforts towards building the capacities of cadres of the Egyptian state administrative apparatus and our activities in the research and consultancy services in the fields of governance and digital transformation. – Sherifa Shreif, NIGSD Executive Director.
In this context, UNU-EGOV and NIGSD will implement, in the year 2021, an Executive Leadership Development Program in the fields of digital transformation in public administration, smart governance, digital governance, and smart cities, which aims to build the capacities of the second and third grades of Egyptian leadership youth cadres in administrative and digital governance issues and smart cities. This program will support the achievement of the sustainable development plan Egypt Vision 2030, as well as contributing towards the current Sustainable Development Goals (SDGs), especially SDG 16 and 17. More details about the course modules are available below.
---
Course 1: Digital Transformation in Public Administration
Module 1: EGOV Foundations and Architectures

A. EGOV Foundations and Strategic Planning
B. Architectures and Management of Information Systems

Module 2: Design and Development of Digital Governance Strategies
Module 3: e-Transformation Change Management
Course 2: Smart Cities and Smart Communities
Module 1: Smart Cities: Challenges and Strategies
Module 2: Smart Cities Projects
Course 3: Smart Governance
Module 1: Smart Governance: Concept, Models and Assessment
Module 2: Decision Support Systems for Smart Governance