2019•04•12 Geneva
10 years for WSIS: UNU-EGOV joins the world's largest multi-stakeholder forum on ICT4D and the SDGs

UNU-EGOV joined the tenth edition of the World Summit on the Information Society (WSIS Forum) as a partner, and its researchers contributed by chairing a high-level panel and running a workshop. As part of an ongoing collaboration, the UNU Institute on Computing and Society (UNU-CS) also joined the event.
---
Collaboration and contribution to a global agenda
As part of this year's edition, which took place from 8 to 12 April in Geneva (Switzerland), the United Nations University further strengthened its relationship with multiple international agencies. While the UNU has attended past editions of WSIS, a stand was organised this year to promote the work of both UNU-EGOV (Portugal) and UNU-CS (Macau).
As a research partner of UNDESA, Morten Meyerhoff Nielsen was invited to present highlights of the Operating Unit's empirical longitude study of the e-Government Knowledge Base at the session on Digital Government Assessment, Promotion of New Technologies and Partnerships. The focus was on key patterns identified in the e-Government Survey data for the 2003-2018, including the importance of governance, strategies and benefit realisation, but also the emerging digital divide between low-income countries and the rest of the world. Morten also illustrated how the EGDI could incorporate outcome measures by using data on e-Service's use in Denmark and Estonia.
During the event, UNU was involved in multiple events. Morten chaired the high-level panel on Building Confidence and Security in the Use of ICTs. Araba Sey from UNU-CS provided insights from the project Equals in the high-level panel on Inclusiveness – Access to Information and Knowledge for All. Lastly, Soumaya Ben Dhaou from UNU-EGOV presented the Blockchain for Cities (B4C) project at the workshop United for Smart and Sustainable Cities (U4SSC), co-organized with ITU and UN-Habitat. The B4C project assesses the contribution of Blockchain technology to smart and sustainable cities and communities, while it also explores the potential of Blockchain, its risks, challenges, and opportunities. The team at EGOV responsible for the project is coordinating an international, multi-disciplinary research team of more than 30 experts from 15 countries on Smart Cities, Blockchain and Public Policy.
The World Summit on the Information Society (WSIS Forum)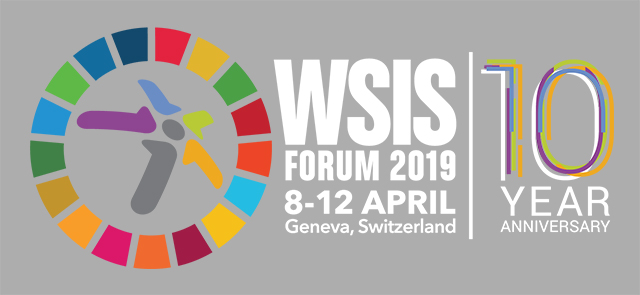 WSIS is a global United Nations multi-stakeholder platform facilitating the implementation of the WSIS Action Lines for advancing the 2030 Sustainable Development Goals (SDGs). The WSIS annual event is the world's largest annual gathering of the ICT for Development community (ICT4D), attended by over 2000 government officials, civil society, private sector and research stakeholders. In 2019, WSIS celebrated its tenth anniversary of the establishment of WSIS Forum under the theme Information and Communication Technologies for Achieving the Sustainable Development Goals.