2021•05•21 Online
The origin of the World Summit on the Information Society (WSIS) can be traced back to 2003 and the Swiss city of Geneva. Supported by the United Nations, the chief aim of the event is to bridge the global digital divide regarding internet accessibility in developed and developing countries. It established 17 May as the World Information Society Day and has evolved into an annual, multi-stakeholder, global Forum.
As part of the United Nations University's efforts to promote and build cooperative research on the Sustainable Development Goals, two Institutes of the UNU have contributed to a number of sessions during this year's WSIS Forum. Together, eight researchers, including both Directors, were part of the programme held online between February and May 2021.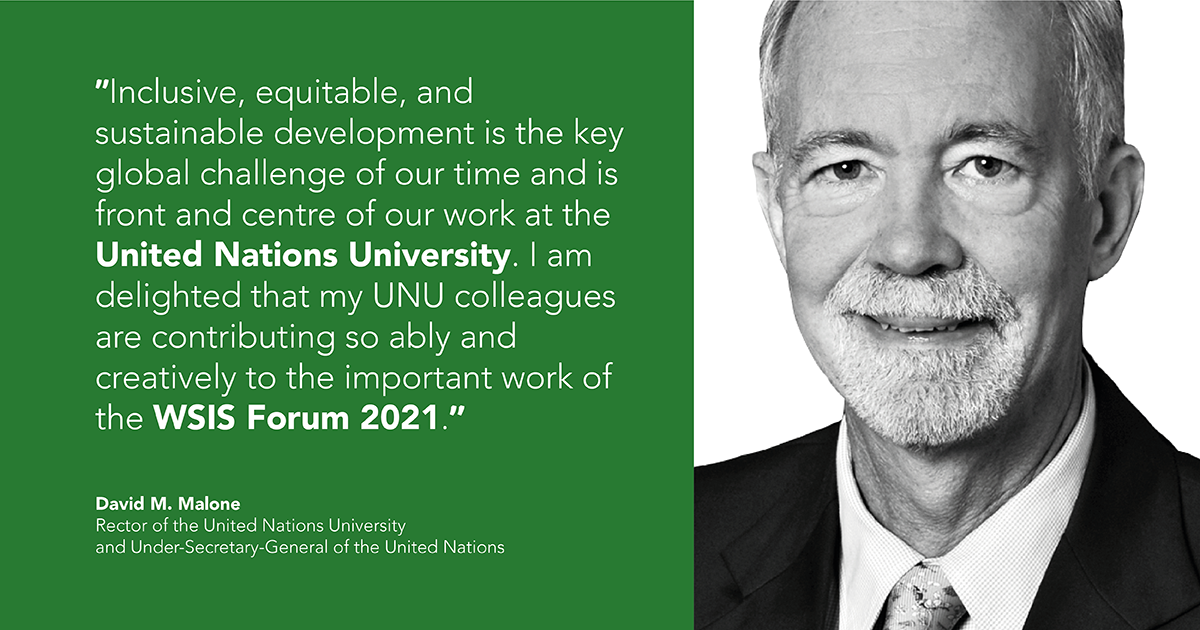 ---
From the UNU Institute in Macau: Director Jingbo HUANG; Head of Research Serge STINCKWICH; Principal Research Fellow Hannah THINYANE.
From UNU-EGOV: Director Delfina SOARES; EGOV Advisor Morten MEYERHOFF NIELSEN; Senior Academic Fellows Judy BACKHOUSE and Mariana LAMEIRAS; Postdoctoral Fellow Demetrios SARANTIS.
---
Thematic workshops were the highest contribution, with seven in total. They covered varied subjects, such as the use of ICT by people with disabilities and specific needs, plus the topic of accessibility of public services and the state of affairs regarding children and the digital transformation of such services. The future of work and the use of ICT was also covered, while ICT and innovative education on Sustainable Development Goals entered the agenda at the end of April. Finally, and in cooperation with other organisations, such as UNICEF, two further workshops were delivered: one focused on simple ways to be smart and another on media and information literacy for government officials and policy-makers.
Two high-level policy sessions were part of the programme as well, both taking place in March. They covered different topics: building confidence and security when using ICTs and the use of ICTs and gender mainstreaming. Further to this, there was an action line facilitators meeting with UNDESA regarding consultations in preparation for the United Nations E-Government Survey 2022, a bi-annual publication that tracks the progress of EGOV development across UN Member-States.
A WSIS stocktaking series focusing on the COVID-19 response, and a briefing session on outcomes of the Forum since January. Finally, the closing session on 21 May featured the presence of UNU-EGOV for final remarks and ideas of further collaboration with the Forum in 2022.
---
Full list of events