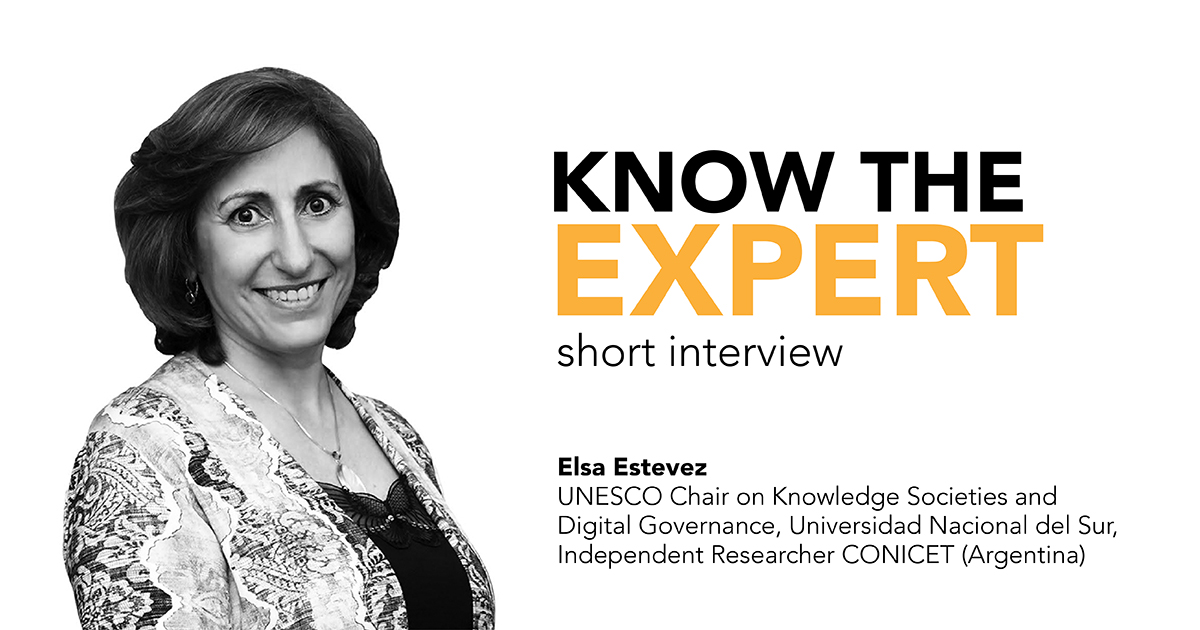 ---
Q1. As a woman in the field, for many years now, how do you see the evolution of gender balance so far? What could other measures to be taken to ensure more gender balance, especially in the field of Computer Science?
Gender balance, particularly in Computer Science, is still an uphill struggle in many regions of the world. For instance, in Argentina, at the Universidad Nacional del Sur (UNS), only 15% of students that pursue an undergraduate degree in Computer Science are women. In the United Kingdom, female students in Computer Science reach 19%. Considering Science, Technology, Engineering and Mathematics (STEM) education more broadly, the percentage of women in the UK is reaching 35%. All these figures show that we definitely have a gender balance problem in the field. One cause could be the perception that professionals on the field spend most of their time programming "behind a computer", which is only partly true.
At the UNS Department of Computer Science and Engineering, we are pursuing several actions to address this problem. For example, we are organising presentations at secondary schools to explain various application areas where Information Technology and Computer Science professionals develop their careers. During such presentations, we make the students aware of all soft skills needed to build software systems, such as communication, teamwork, and consensus-building. The talks are given by women graduates and students who share their experiences. We are also planning to work with high school teachers to enhance how Information Technology and Computer Science are taught by highlighting the role of technology in solving social and community problems. We believe that these actions could raise interest in computing education and computing careers among female students.
---
Q2. During your time in Argentina, you worked both in the industry and academia fields. Eventually, you moved to Macau to join the United Nations University. What were the major challenges faced during this period, and how did you adapt to living in Macau instead of Argentina?
Moving to Macau in 2004 was a hard decision. My primary motivation was to pursue doctoral studies. At that time in Argentina, there were very few professors able to supervise doctoral students in Software Engineering, my area of expertise. I joined a small research team, led by Tomasz Janowski within the International Institute for Software Technology (UNU-IIST), that submitted a proposal to the government of Macau for initiating a new programmatic area in Electronic Government. Adegboyega Ojo was the other team member back then. In the beginning, we faced many challenges given our lack of experience working with governments and starting a new applied research area.
At the personal level, I enjoyed very much the type of work I was doing but felt alone in a very different culture. As usual in life, overcoming challenges helps build your strength. We also built tight bonds among our team and until today, we keep working together with Tomasz and Adegboyega on different activities and projects, and enjoy every opportunity to meet in Argentina, Ireland, Poland or elsewhere. My experience of living in Macau was deeply transformative. It helped me better understand the important things in life. With colleagues from different cultures and parts of the world, we established relationships built upon friendship, a strong sense of purpose, and respect for diversity.
---
Q3. Could you highlight some projects you have taken part in over the past years? Which one would you say had the most impact on people?
To answer this question, I have to make a distinction between my work as a researcher and my work as a university professor. In the former role, the impact has been indirect, for instance, assisting governments in building their capacities to deliver better services to citizens. As an example, we are working with the municipal Government of Bahia Blanca, the city where I live, on a project which aims to develop different types of tools for government to use. One such tool, part of the capstone project of a bachelor student, was a mobile app for social workers to collect data about vulnerable groups. Another was a system for administering government homes that host children under government custody. On a different type of initiative, I helped the Colombian Government to define the Government Chief Information Officer function, and the Government of El Salvador to develop their digital government strategy.
While all such efforts have an indirect benefit on people, every time I teach for government officials about opportunities offered by digital technology for development, I feel that my work has a more direct impact. Likewise, as a university professor, empowering students to achieve their goals, accompanying them while they open their minds to new knowledge and assisting them in building their capacity is when I feel that my work has an impact. I think that I am contributing to building a new generation of IT leaders, and I am very happy when they share with me their achievements.
---
Q4. What is your view on the importance of EGOV in general for society nowadays?
Today, when we are facing one of the worst global crisis in modern time, this question is fundamental. The COVID-19 pandemic brings the role of governments to the centre stage. Just a few weeks ago, we were witnessing societies challenging their governments and showing a lack of trust in them. Today, public safety and health are critically dependent on government policies that guide our reaction to the pandemic, with societies benefiting or suffering from the consequences of such decisions. In government decision- and policy-making, the availability of reliable digital infrastructure, the access to accurate data, the readiness of artificial intelligence solutions for forecasting future scenarios – are all tools that can assist governments in coping with the crisis. Such tools, along with the delivery of smart, customised and anticipatory public services able to address pressing community needs, are the results of digital government efforts. This is why EGOV is so important for society nowadays.
---
Q5. What significant trends do you see in the EGOV area for the upcoming years?
It is difficult to foresee in what shape our societies will emerge after the COVID-19 pandemic. I imagine that the government's role in protecting society will be strengthened. This role requires the capacity for delivering smart decisions and services underpinned by new governance models at the local, national, and international levels. In turn, societies will need to decide what kind of socioeconomic models they would like to adopt. Whatever scenarios emerge, digital technologies will remain key to understanding citizens' needs and enabling stakeholder engagement. They will facilitate government innovation to serve best the public and intelligent forecasting of the problems ahead.
Two significant challenges we face are lack of capacity to leverage the strategic value of data and technology, and the growing disparity gap between countries that have and those that do not have such capacity. Since we can no longer envision governments performing their duties without the use of technology, all new forms of public governance define future trends for EGOV.
*The views and opinions expressed in this interview are those of the interviewee and do not necessarily
reflect the official policy or the opinions, beliefs, and viewpoints of the UNU.