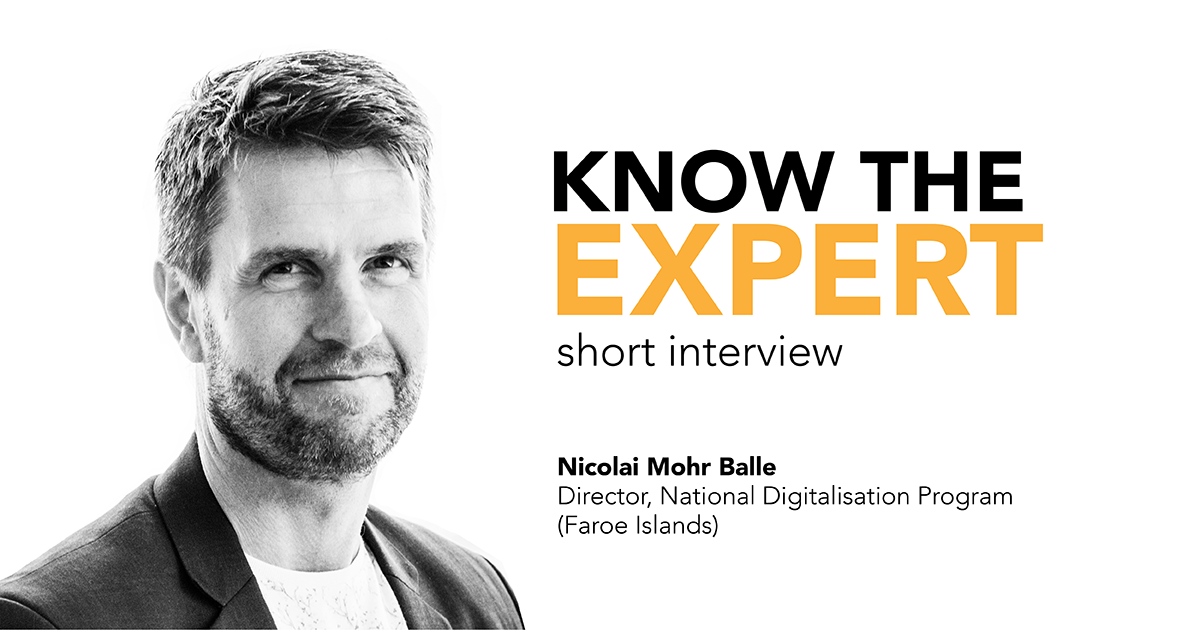 ---
Q1. You hold a Master's degree in Business and Computer Science from the Copenhagen Business School. Could you let us know how that choice influenced your later career?
My choice in education has had a significant influence on my professional career. Ever since I graduated, I have been working with IT and digitalisation. I started my career in a local software house in the Faroe Islands, where I worked as an all-around IT professional, taking care of everything from software development, support, education, maintenance, and administration.
In 2005, my career in IT and digitalisation management and leadership started. This year, I was appointed CIO at the Ministry of Health and Social Affairs. My main task was to implement a national Electronic Health Record (EHR) system for all the Islands' health care sectors. Nowadays, the entire health care on our Islands is centred around this national EHR system, which has had a massive influence on patient security.
In 2009, I was responsible for establishing and implementing a national IT infrastructure for all Governmental Institutions on the Faroe Islands. Today, 90% of all institutions are running on this infrastructure. In 2015, I gradually started my current position as Programme Manager for the National Digitalisation programme. When the programme became a reality in 2017, I became a full-time manager. In 2020, we launched the last part of the programme, our national eID and our citizen portal.
---
Q2. Since 2015, you are the Director of the National Digitalisation Program of the Faroe Islands (Talgildu Føroyar). Could you highlight one major project you have led and its influence on the Faroese society?
The national digitalisation programme consists of four major building blocks, where the eID [Electronic IDentification] is the most complex and demanding project. Our national eID complies with the eIDAS regulation, which is the European Union's law on eIDs. This eID will be the solution all citizens, who are eligible to have an eID, will use when accessing digital services from local authorities and businesses. This solution also consists of a digital signature, so there is no doubt that this solution will be at the core of all critical digital services offered to Faroese citizens in the future.
---
Q3. Small island nations often face resource constraints, not least when digitising. Has this been an issue in the Faroe Islands, and if yes, how have you and your team worked on it?
The IT industry in the Faroe Islands is not large, but it is growing, and the level of competencies is high. Compared to baseline in OECD countries, the number of people working in the IT industry in our islands should be 20-30% higher than it is today. This means that it can be challenging to implement all the visions we have when it comes to digitalisation. In the national digitalisation programme, one of our goals has been to develop our IT industry, and we have therefore offered all development and operations to local businesses. To meet all the requirements, though, it has been necessary to involve vendors from abroad as well. This has been done with the local businesses as the main vendors and with foreign vendors as sub-contractors.
---
Q4. The Islands seemed to have avoided the worst of the current pandemic, with few cases reported and vaccination well underway. How did this impact the e-Services of the territory?
Even though we are an isolated group of islands in the North Atlantic Ocean, we are blessed with relatively good internet access, and the citizens are also fairly tech-savvy. This meant that the pandemic did not hit as hard as it could have. After the country went into lockdown, most people were able to do their work from home. Our national digitalisation programme was an excellent example of this. We had planned to launch the last and major building block in the digital infrastructure in 2020, and we still succeeded in doing that, even with the country in lockdown for most of the year.
---
Q5. What do you think will be the major trends in the area of Digital Governance in the upcoming years?
Since we, in the Faroe Islands, only recently have launched our digital e-Service infrastructure, our digital journey towards online services to our society has just started. For the next years, our main task is to develop as many digital services as possible for our citizens. With this in mind, we hope to achieve many different goals. We hope to improve efficiency, transparency, and trust between citizens and authorities, and last but not least, we hope to modernise our welfare society. The growing number of elderly people stands as a major challenge, and if we do not embrace digitalisation, it will be an impossible task to maintain the level of welfare we have in our society today.
---
*The views and opinions expressed in this interview are those of the interviewee and do not necessarily
reflect the official policy or the opinions, beliefs, and viewpoints of the UNU.