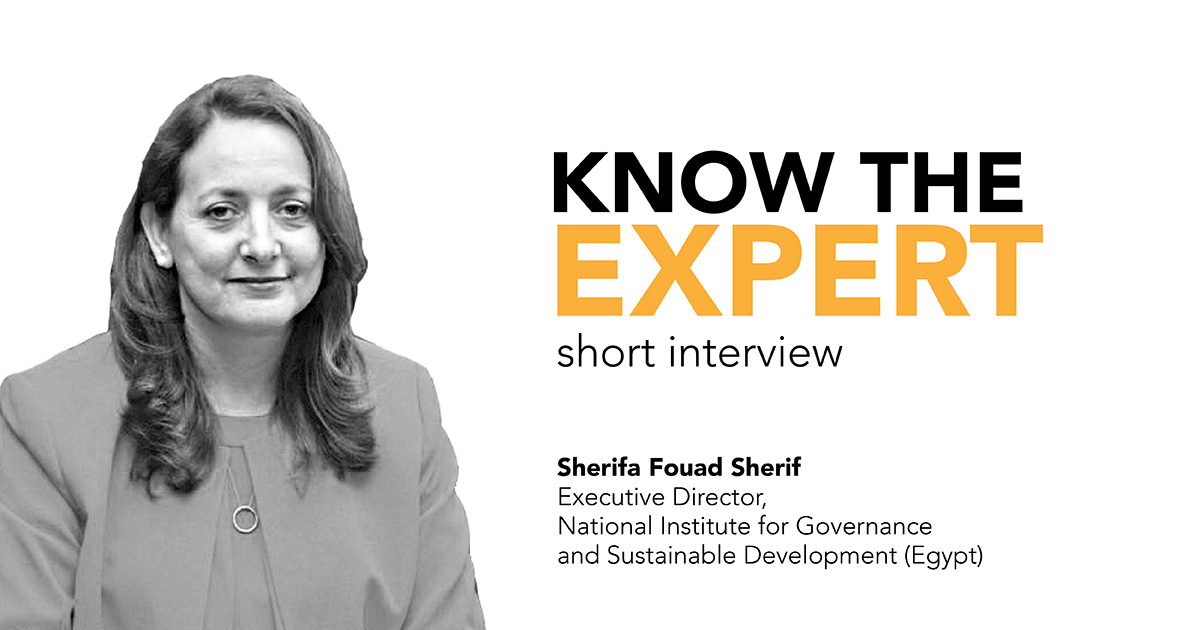 ---
Q1. You have a very extensive profile, having held several roles at the governmental and academic levels. Could you let us know more about your career path thus far?
My career path is a combination between government and academia. I earned my Bachelor of Arts Degree in Business Administration and Master's degree in Public Administration from The American University in Cairo. As Chevening Scholar, I received my Degree of Doctor of Philosophy in Environmental Management and Public Policy from the University of Sussex, Brighton, United Kingdom.
Currently, I am the Executive Director of the National Institute for Governance and Sustainable Development, alongside being the Governance Advisor to the Minister of Planning, Monitoring, and Economic Development. I also serve on several ministerial committees in Egypt, including Administrative Reform, Civil Service Capacity Building, Egyptian Government Excellence Award, Egyptian Anti-Corruption Committee, Governance Indices, and the African Peer Review Mechanism. In 2020, I was selected as one of the top 50 Most Influential Women in Egypt for my significant contributions to the socio-economic and development sector. In 2021, I was chosen to become a Committee of Experts on Public Administration (CEPA) member under the UN Economic and Social Council.
As a professor for more than 20 years, I published numerous research papers and articles, co-authored in national and international journals, and was granted "Best Paper Award" for several publications. I am specialised in Gender Studies, Governance, and Environmental Management. Alongside academia, I worked as a lead advisor in several developmental projects with the United Nations Development Programme, UN Women, and the United States Agency for International Development.
---
Q2. Being a Professor of Public Administration at Cairo University means you are constantly in contact with young students. How do you see the future of Egypt's public administration from this academic perspective?
Youth make up more than 60% of the overall population in Egypt. With Egypt's Vision 2030 and the socio-political, economic, and societal challenges, Egypt is currently performing comprehensive state structures and processes reforms. Highlighting Sustainable Development Goal 16, Egypt is committed and working to achieve efficient and effective public institutions. Modernising human resources is a top priority with respect to reforming the public administration; this, in turn, is reflected in investing in human capital.
More opportunities are being made available to graduates in public service as we move to the country's New Administrative Capital. Digitisation requires new skills for future civil servants. The Digital Egypt Strategy and advancing technologies require skills related to AI, robotics, and data analytics. Other upskilling is also needed, such as creativity, emotional intelligence, communication and resilience, and skills for policy development, citizen engagement, and innovation in public service delivery. As a Professor, I greatly believe that we must start bridging the skills gap to meet future workplace needs. Equip our youth with career-ready learning by better-connecting subject-matter content to lifelong skill development.
---
Q3. As Executive Director of the National Institute for Governance and Sustainable Development of Egypt (NIGSD), could you tell us about your daily work routine and the organisation's main goals?
The National Institute for Governance and Sustainable Development is one of the leading training institutes in Egypt. As a think tank and advisory body to the government, private sector and civil society, the institute's mandate is built on three pillars: training, research, and consultancy. The institute's slogan is Governance for Sustainable Development. Our main goal is to create awareness regarding good governance practices to implement Egypt's Vision 2030 and, in turn, the SDGs through awareness initiatives and training. The institute is also responsible for monitoring, reviewing, and reporting on Egypt's ranking in all indices related to governance, sustainable development, and competitiveness.
To train and create awareness, we use innovative techniques to make learning interesting and avoid learning fatigue. We developed tools like training manuals, sustainable development gamification, learning management systems, a glossary of governance for sustainable development to simplify terminology, and a standard operating procedure manual for good governance practices.
Alongside being a wife and a mother of three incredible human beings, my days are extremely busy and long. My daily work routine is divided between online meetings and webinars to in-person meetings. Unfortunately, I usually work on weekends. Internally, I meet with my team daily to support and proactively deal with any challenges. My leadership style is a combination of coaching and a hands-off approach; democratic delegation is key.
---
Q4. Since assuming this role at NIGSD, what projects or initiatives are you most proud of?
I am proud of several initiatives delivered in the last couple of years. One of the main programmes that was very impactful was the training program with UNU-EGOV: Executive Leadership Development Programme. It was delivered on-site in Guimarães, Portugal, in the fields of digital transformation in public administration, smart governance, digital governance, and smart cities, aiming to build the capacities of Egyptian leadership youth cadres in administrative and digital governance issues and smart cities. The program targeted approximately 120 Egyptian civil servants in 2021. We will continue to capitalise on our partnership with UNU-EGOV to give the opportunity of this world-class training programme to more and more civil servants. Other flagship initiatives delivered by the institute in 2020-2022 include:
She for a Digital Future-Bridging the Gender Digital Divide;
Ambassadors for Sustainable Development-Creating Awareness on SDG Goals;
Ambassadors for Climate Change-Readiness program for COP 27;
Women Leadership Program and African Women Leadership Program (upskilling women for leadership roles in government and becoming board members; this programme is a model built on equal opportunity and peer to peer learning).
---
Q5. What do you think will be the major trends in Digital Governance in the upcoming years at a global level?
Half of all internet users reside in the developing world and are responsible for a third of the global online population. The internet has evolved into a platform where information exchange and commerce can take place rapidly and seamlessly across national borders, influencing societies and economies. The internet is shaping global economics and geopolitics, setting the principles and standards. Global digital governance is needed now more than ever, calling for more accountability, transparency, inclusivity, and equity.
Promoting digital inclusiveness is necessary by addressing various forms and sources of the digital divide, especially in developing countries where digital illiteracy affects women the most. Ineffective digital governance creates waste and missed opportunities, making digital transformation riskier and costlier than it needs to be. A well-crafted data governance strategy is fundamental when working with big data to be able to secure, manage, and control data for sound decision-making based on reliable, high-quality data.
---
*The views and opinions expressed in this interview are those of the interviewee and do not necessarily
reflect the official policy or the opinions, beliefs, and viewpoints of the UNU.