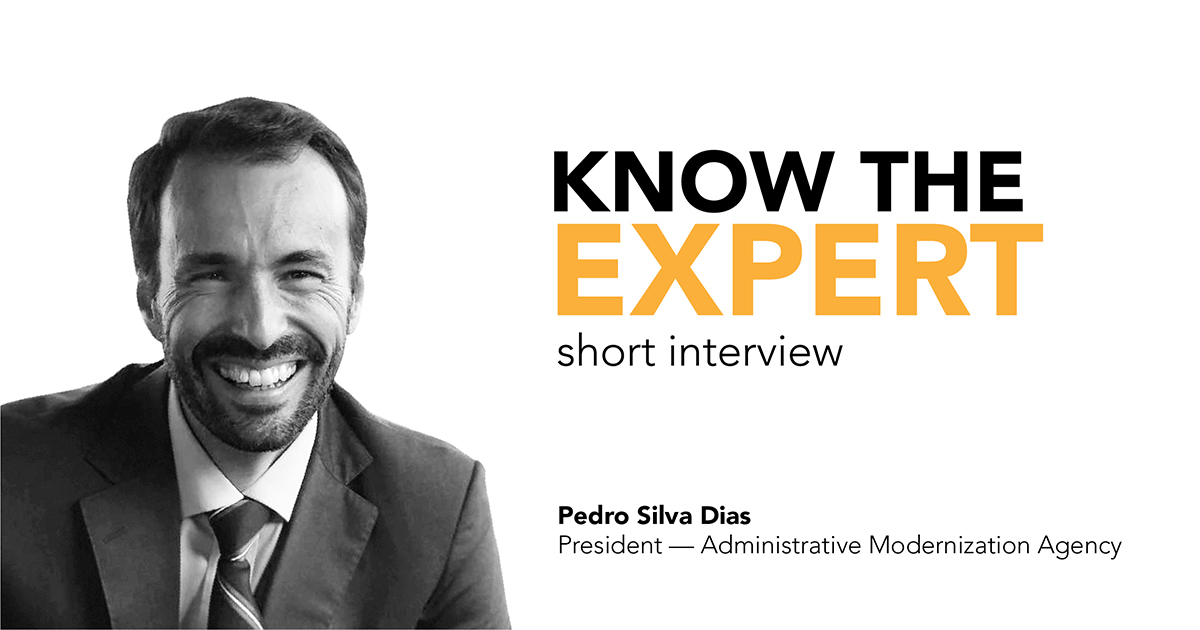 ---
Q1. You are President of the Portuguese Administrative Modernization Agency (AMA) since April 2015. After more than three years in the role, could you let us know what have been the major milestones or goals achieved during this period?
During the last three years, our agency has accomplished important and different sorts of achievements: from new flagship digital service developments to an expansion of our physical service delivery network or the roll-out of major participation programs in Portugal.
On the digital service front, AMA has been involved in some of the essential EGOV enablers that were in place in our country. The digital mobile key (Chave Móvel Digital), a mobile phone-based electronic identification scheme, is probably one of the leading products that we have deployed, allowing for convenient and safe electronic authentication and signatures using only our smartphones. But we have also significantly strengthened our interoperability capabilities and offers, from the Energy Social Fare to Digital Medical Prescriptions.
Our vision, though, is that we have to provide an adequate channel and service to everyone, especially to those that are not comfortable or able to use digital services by themselves. For this reason, we have drastically increased our networks of physical service delivery. We now manage a network of more than 50 Citizen Shops (Loja de Cidadão). As importantly, we have accelerated the deployment of Citizen Spots (Espaço Cidadão) and have been able to install more than 520 of these very inclusive units in Portugal (including two abroad, in Paris [France] and São Paulo [Brazil]). Citizen Spots are a critical EGOV strategy for us, as they help citizens access public services that are 100% digital, thus reducing the digital divide in our society.
Finally, I have to highlight our major contributions to the development of public participation programs in the administrative and EGOV fields. The SIMPLEX program, which was re-launched and enhanced in 2016, is a highly participated red-tape elimination program that we operationally supervise. Since then, we were also able to launch our National Participatory Budget (OPP – Orçamento Participativo Portugal), which was the first participatory budget successfully deployed in the world at a country level. And, more recently, we have delved into the govtech area where we launched an online competition to award financial prizes to three startups that addressed one or more of the 17 United Nations Sustainable Development Goals. The winning start-ups were selected from an online voting platform that was supported through Blockchain.
---
Q2. With an education in Informatics Engineering and Business Administration, and several professional roles held in the banking and health sectors, when did you start to realise that EGOV was an area of interest to you?
EGOV is, to some extent, the perfect combination for those who have a background in computer science and business management. On the one hand, you can make good use of formal ICT skills to come up with innovative architectures and novel designs to systems and processes. On the other hand, having previous managerial roles and experience (and formal education in some cases) allows you to prioritise initiatives better and be able to lead projects and teams in contexts of very scarce resources (both human and financial).
I would say that working in EGOV is a fantastic activity field for all those that love technology and engineering, not as an end in itself, but as an indispensable means to develop new ways of reaching a very vast set of people, which is basically the entire population of your country.
---
Q3. The "SIMPLEX" programme was initially launched in 2006 as a means to modernise the local and central public administration services in Portugal. Many initiatives took place since then, including the issue of the electronic Citizen Card, which replaced the paper-based identity card. In 2018, a new edition of the program was launched (SIMPLEX+2018). Now that the year is coming to an end, is it possible already to understand the impacts of the new program?
The SIMPLEX is an annual program, and the 2018 edition is still midway through. This year's program, comprising 175 measures, was made public in June and the implementation stage is still on-going until summer 2019.
The SIMPLEX program aims to reduce red tape and to simplify everyday life for citizens and companies, by redesigning services, streamlining procedures and, oftentimes, even eliminating processes and interactions between the public administration and the citizens. All annual programs have a high rate of participation and citizens, companies, industry associations, and civil servants are invited to participate and make suggestions for new initiatives and projects. The program is monitored with maximum transparency and accountability, both regarding execution levels and impact for the society.
At the execution level, the program has always been very successful, and implementation rates were consistently above 80% since the very first year in 2006. As for the impact in the society, we launched an independent and external evaluation study that sampled 16 major initiatives of the SIMPLEX 2016 program, and we came up with a very meaningful estimate for these group of projects. The study found out that these 16 measures (the estimate was actually conducted for just 15) could represent a total saving of 600 million euro for the Portuguese economy (or roughly 0.3% of the GDP) and 0.1% impact in the GDP due to process waste elimination alone.
---
Q4. The Portuguese Participatory Budget (OPP) was the first participatory budget in the world to allow citizens to decide and vote on projects which funding comes directly from the national budget. Do you think that this initiative is giving citizens a real opportunity to influence where and how part of the national budget is spent?
Portugal was indeed the first country to have successfully launched and sustained a participatory budget held at a national level. We have already completed two full editions of this program, and we can definitely state that it has generated a significant engagement from citizens and a very interesting participation level.
In both editions, we have had the active participation of more than 3700 citizens, which is quite significant for this sort of public programs. Additionally, around 90 participatory meetings were held all around the country to promote this initiative and allow citizens to express their ideas, projects, and suggestions. In the end, we collected more than 2400 potential ideas, of which 1291 were considered eligible for the voting stage.
With an allocated budget of 8 million euro (for both editions), citizens were able to select the final winning projects through an online voting platform – 5 winning projects at the national level and 55 winning projects at the regional level.
Although projects are still being implemented, we can definitely say that this program is really being used by our citizens to express their views and to make a stronger contribution to our society. This is not true not only for those who have actively participated with ideas and projects, but also all the citizens that were engaged in the selection stage (we accounted for roughly 200 000 votes on both editions).
---
Q5. In your opinion, what are the most significant trends worldwide in EGOV for the upcoming years?
I believe we will witness two very strong trends that are, to some extent, opposing in nature. First, we will have higher scrutiny for data usage, and personal data, in particular, causing an increased awareness from individual citizens about the purpose of each data access from public entities. As services rapidly implement once-only principles and deploy seamless services in some cases, citizens may raise their concern and attention to transparent data usage, authorisation platforms and auditability solutions that provide them with a control mechanism over who is accessing their data.
On the opposite direction, I believe that we are already witnessing the beginning of the proliferation of AI-based (or AI-supported) services that will be as more effective (and hopefully useful and reliable) as more data they collect and harvest. The AI field is advancing very rapidly, and I believe that in the next 3 to 5 years we will see several services using AI algorithms, which will require a new set of rules and methodologies to guarantee an ethical use of AI and an unbiased service offering.
*The views and opinions expressed in this interview are those of the interviewee and do not necessarily
reflect the official policy or the opinions, beliefs, and viewpoints of the UNU.