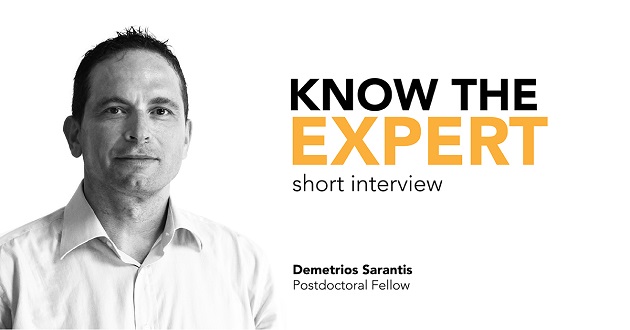 ---
Q1. Your academic life started as an electrical and computer engineer in 1996. Gradually, you moved your research interests towards EGOV and obtained a PhD in e-Government by the National Technical University of Athens. Could you let us know a bit more about your academic path so far?
Shortly after completing a double master's degree in Operational Research and Information Systems, I worked as an electronics engineer in England. Afterwards, I returned to Greece to do the obligatory military service, after which I was hired as a software engineer in a Greek software company implementing enterprise resource planning software. This was a critical transition point to the IT world. During my employment in the Hellenic Telecommunications and Post Commission, I had the chance to complete my PhD in e-Government. Throughout my PhD studies I was involved in several e-Government projects, at both national and European level. This involvement in the improvement and modernisation of the way that public administration interacts with citizens and enterprises opened the gate to the e-Government world.
After obtaining the PhD, I worked as a digital transformation advisor for the Greek government, participating in the formulation of national e-Government policies. The next step in the area took place at Yale University (USA) where I was introduced to the world of big data in the health sector and had the opportunity to collaborate with great researchers. Finally, when the opportunity arose to join the United Nations University at its EGOV institute, I had the chance to apply and develop my knowledge and experience in the digital transformation area, producing policy-driven research and instruments that will contribute to inclusive social and economic development, environmental sustainability, peace and security worldwide.
---
Q2. e-Health has been one of your recent interests. Could you highlight some projects or interesting research done in this area?
CEDAR is the name of one such project that I was involved in during my post-doc at Yale University. CEDAR is turning data submission smarter and faster, so that scientific researchers and analysts can create and use better metadata. Through better interfaces, terminology, metadata practices, and analytics, CEDAR improves metadata from the provider to the end-user. CEDAR approaches centres on the use of metadata templates, which define the data elements needed to describe particular types of biomedical experiments. The templates include controlled terms and synonyms for specific data elements. CEDAR uses a library of such templates to help scientists submit annotated datasets to appropriate online data repositories.
The Hospital Website Assessment Index is another research project that is currently being implemented at UNU-EGOV. A key element in the evolution of hospital services through the Internet is the development of websites that better serve the patients' needs. It imposes a high challenge on health sector organisations to have objective methods to evaluate their web presence. In attempting to cover this need, the Operating Unit proposes a method and a relative instrument, named the Health Sector Website Assessment Index (HSWAI). The instrument created has been based on a literature review and revised through a questionnaire sent to experts from the health sector area.
---
Q3. Greece has recently created the Ministry of Digital Governance. Do you think this is a necessary ministry in all countries and what do you hope they accomplish for the Greek society in the next years?
I think that all countries need a coordinating body to operate as an umbrella for all national e-Governance initiatives and programmes. This body provides the essential shared vision to e-Government as a means to engage and co-ordinate agencies, and gain support from political leaders. It can help promote inter-organisation co-ordination, ensure balance, fairness, and aims alignment.
The Ministry of Digital Governance in Greece is a new public administration unit that, for the first time, brings together all the critical IT and telecommunications structures related to the provision of electronic services to citizens and Greece's broader digital transformation. I expect from the Ministry to lead the efforts for simplification of the existing public sector processes, coordination of the critical state information systems, and generally to eliminate the fragmentation of units and systems that affect the quality and cost of the provided services.
---
Q4. Greece sits at the crossroads of Europe and Africa. This unique position allows for cross-border cooperation between different countries and cultures. Do you know any EGOV-related initiatives between Greece and neighbourhood countries?
Almost all governments around the world have their national digital agendas. Each country has a different starting point and progress. However, there are also lots of similarities when looking at the e-Governance systems that are in use. Learning from each other and developing shared approach needs openness and collaboration.
Within the framework of the European Union, there are several efforts between Greece and other European countries regarding e-Governance systems collaboration. For example, there is ongoing collaboration in the e-Identities project and in the exchange of criminal records data between European countries. Apart from some pilot programs such as like WEBDEP, which uses the Internet for the strengthening of democratic processes by increasing citizen involvement and media independence to support cooperation between the Western Balkan countries, I am not aware of any e-Government-related initiatives between Greece and neighbourhood countries.
I expect this issue to be one of the hot topics that will be raised and discussed in the forthcoming ICEGOV conference, which will take place in Athens in April 2020. It is an excellent opportunity to bring closer neighbour countries of the eastern Mediterranean and southeast Europe, and initialise the discussion of possible digital government collaborations.
---
Q5. What significant trends do you see in the EGOV area for the upcoming years?
In a constantly changing world, governments will need to be more intuitive, understand how to sense and respond to new technology opportunities, social challenges, and citizen needs as they emerge. To serve citizens well, governments need to be more integrated. Breaking down silos, seamlessly connecting and streamlining data and process flows are vital to finding new solutions, enhance security, and create personalised experiences by engaging citizens in decision making. In short, transformation will require uprooting outdated systems and practices, and replacing them with new models better suited to the age of artificial intelligence (AI).
The way governments respond to AI, both as a regulator and as a user, will shape our societies and even geopolitics for years to come. I expect that unique digital identifiers will open the doors to integrated data and a seamless citizen experience, enabling dramatic leaps in service quality, massive efficiency gains, and the move to a digital delivery model. I also hope that governments will play a critical role in the rise of data ethics, not only as the "owner" of massive amounts of data but also as a regulator of corporate data use.
Cloud computing offers enormous leapfrog opportunities for the public sector. Cloud systems provide a mechanism to connect technology developers and users, and I think that its role as a foundation for innovation has not been fully exploited yet.
Smart government is also a promising path. As we see with smart city solutions, integrated, connected, and sustainable governments will continue deploying technology to serve citizens in a collaborative and comprehensive manner, improving everything from transportation and energy provision to health care and safety.
*The views and opinions expressed in this interview are those of the interviewee and do not necessarily
reflect the official policy or the opinions, beliefs, and viewpoints of the UNU.