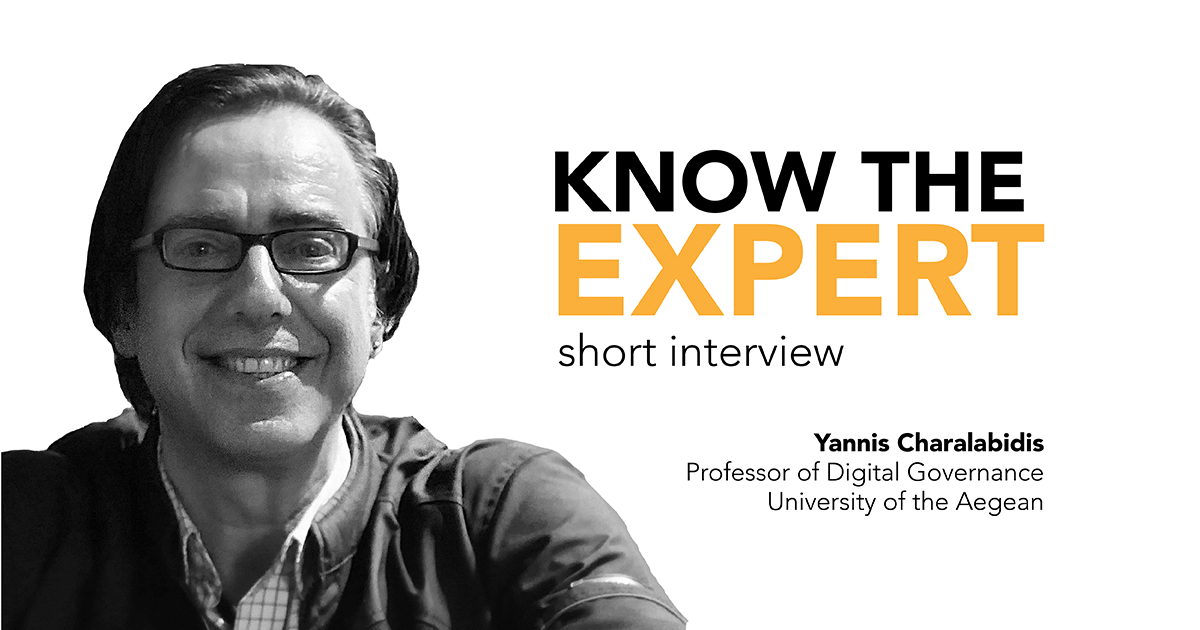 ---
Q1. Looking at your earlier career (1996-2006), it seems that you have spent a fair share of time in the industry and the private sector before moving to academia. Could you let us know more about this period and your PhD years at the National Technical University of Athens?
Ah, yes, these were quite adventurous years in academia and business. During my PhD at the Technical University of Athens, in the domain of software systems interoperability, I had the chance to work on several visionary ICT projects in the public and private sectors. I was lucky to be engaged in a university laboratory that was very extrovert, performing research in information systems in various domains, something that I now suggest to my students: to collaborate with university teams that are well connected with the market, offering opportunities to meet new people and places. One of those companies, which I met as a research partner, offered me a managerial position just when I was ready to continue my academic career. And that is how I started my next adventure in the then-largest ICT company in Greece. During 10 years, I had the opportunity to experience situations that academia could not have offered: I became a CEO when I was 33 years old; I was managing several entities in Greece, Hungary, the Czech Republic, Poland, and the Netherlands; I had a team of more than 500 programmers with a good part in India, and more. I was always called "the academic of the company", always being a different flower in this garden. So, when I felt I took all the knowledge I could, I knew it was about time to change the garden…
---
Q2. Having been a Visiting Professor at several universities across the world and being with the University of the Aegean in Samos for the past 12 years, what do you think are the main challenges regarding teaching and research post-COVID?

Several hundred years after the realisation of the idea of a "university", a place where wisdom can be created and shared, and especially after the exponential growth of the internet, it is now more and more apparent that we need a redefinition of the main objectives of the university. Universities now need more than ever to explore new ways to reinvent themselves. So, I think that some elements that the "university of the future" would be targeting are issues like:
A challenge-driven curriculum and organisation of courses so that students not only get knowledge around several subjects, but they seek and utilise such knowledge towards tackling some of the challenges of our society.
Diving deeper into research, especially around the utilisation of technological means in providing new solutions to existing problems.
Promoting innovation and entrepreneurship, for students, researchers and faculty, with new tools and processes.
Provide students more experience than knowledge, by connecting with the market and exposing them to real-life situations very early in their studies.
These are some of the directions we explore at the University of the Aegean and recently at the European Institute of Innovation and Technology (EIT). Of course, harvesting new ideas from pioneering universities are instrumental for academic teachers – that is why I am always seeking new visiting opportunities worldwide.
---
Q3. You are also part of a few European Commission projects. Could you share some insights into these projects and what is planned ahead?
I can mention some of our current research projects in the domains of digital governance and entrepreneurship:
The PROMETHEUS project, where we experiment with new tools and processes for teaching entrepreneurship to pre-graduate and post-graduate students. This project is running under the umbrella of EIT, with the collaboration of several European universities, creating new startup ideas in the areas of Digital Transformation and Sustainable Development.
The COMPAIR project aims at engaging citizens in the effort to ameliorate the quality of life in our cities through citizen science. In this project, we develop new tools and provide Big Data to help citizens understand the problems and take part in the creation of innovative solutions for better air quality.
The ODECO project is a coalition of more than 10 European universities aiming at creating the next generation of open data researchers. In ODECO, we are running in parallel more than 15 new PhDs in technical, semantic, and organisational issues of Open Governmental Data (OGD) in an effort to positively influence OGD within the next 5-10 years.
---
Q4. What are your views on Open Data and e-Participation in your home country, Greece? Is it heading in the right direction?
During the last three years, Greece has been making a new start in Digital Governance issues, also propelled by the "digital urgency" created by the COVID pandemic. New services, new mobile applications, and even new pan-European services and infrastructures are being created in Greece on a daily basis. Of course, interoperability issues are still keeping several important services to be implemented in days or weeks, especially at municipal and regional levels. So, Greece is currently struggling to excel in the domain of Government 1.0 (the provision of automated services), aiming to reach the next level in the provision of proactive, fully automated digital public services.
As a result, Government 2.0 issues, such as Open Data, Open and Collaborative Governance, e-Participation, and e-Voting systems, are progressing at a somehow slower pace. However, we operate some very innovative systems, like DIAVGEIA.org, which publishes all government decisions at the central and local levels – a worldwide innovation. We are also active members of the Open Governance Partnership (OGP).
I believe that in the next few years, the country where democracy and citizen involvement was "invented" will also find its way into such Government 2.0 issues; and that is a call to action for our students and researchers.
---
Q5. What do you think will be the major trends in Digital Governance in the upcoming years at a more global level?
If I was to choose the three most important trends in Digital Governance for the next few years, I would pick the following:
Citizen Science as a new way to leverage the power of the public by integrating IoT sensors, Big Data, new modelling and simulation tools, and new non-monetary incentives. This road is going towards an open government model, where knowledge is created and shared, and where solutions can be more easily uptaken, as many of them are designed by the citizens themselves.
Advanced AI-powered digital public services operating at entirely new levels of proactiveness, speed, low cost, and overall quality. I think that with some care on the regulatory issues of Artificial Intelligence – especially around the explainability of the solutions and ethical use – we stand at the beginning of a totally new era of services and possibilities.
Digital Twins for cities and regions, where a new level of monitoring, understanding, and forecasting of complex societal phenomena can be reached, with the utilisation of IoT, Smart City solutions, and advanced modelling and simulation tools, as well as with new levels of citizen participation.
---
*The views and opinions expressed in this interview are those of the interviewee and do not necessarily
reflect the official policy or the opinions, beliefs, and viewpoints of the UNU.