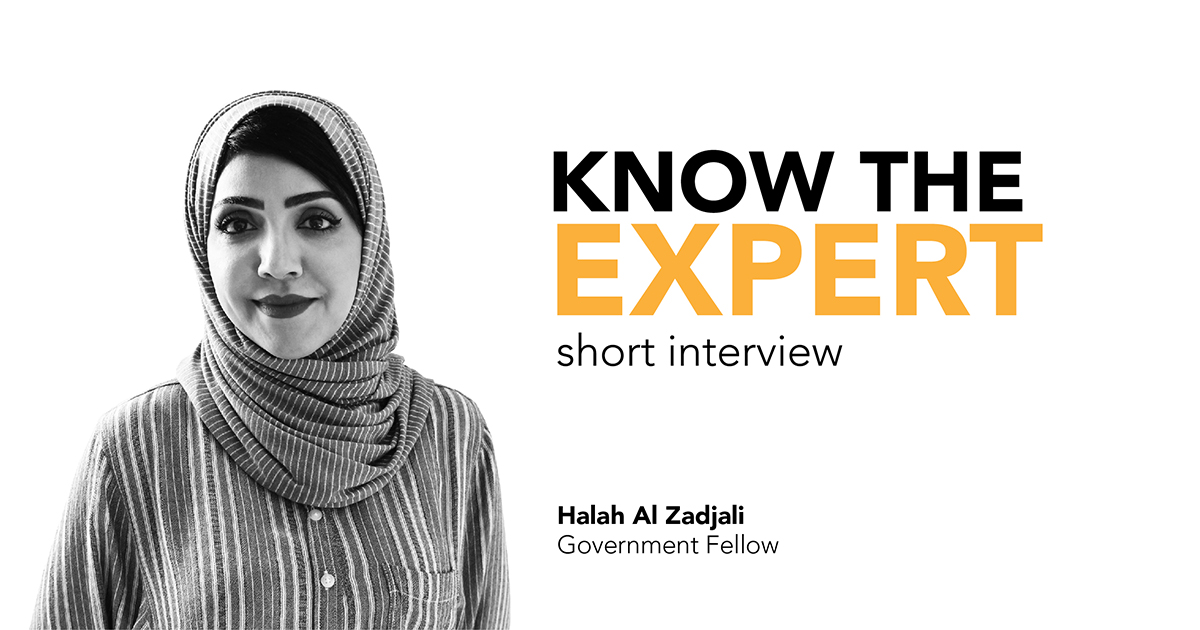 ---
Q1: This is the first time we interview a Government Fellow. What led you to participate in this programme, which has been running at UNU-EGOV for threes years now?
Since the beginning of my career, I have always been interested in international programs focused on Information Technology and Digital Governance, in particular. I heard much positive feedback by previous Omani fellows, so I decided to apply, and I am very honoured to be accepted. As an IT practitioner in the public sector, I strongly feel the responsibility towards my country, the Sultanate of Oman, to enhance e-Government services and achieve the e.Oman vision. What mostly makes UNU-EGOV attractive is that it facilitates a multicultural environment dedicated to research and public policy of digital governance mechanisms and sustainable development. This fellowship program helps us to gain a better understanding of the emerging challenges around e-Governance across government organisations worldwide. Besides, it engages both experts and on-field practitioners to exchange experiences and come up with innovative solutions to the addressed issues.
---
Q2: The Information Technology Authority (ITA) of Oman was founded in 2006. You have been working there in the past eleven years. Could you let us know a bit more about your professional path?
I started working in ITA in 2007 as a Support Specialist in the Innovation and Support Center (ISC). The ISC provides IT support, consultancy and hosting services dedicated to the Government agencies. Therefore, I was fortunate to be one of the first women to join the centre and, since then, I have been assigned different roles to design, develop, and implement complex projects. Also, I have achieved many specialised certifications in Microsoft platforms and other virtualisation technologies, and I have delivered more than 50 training courses to IT government specialists and universities students. Ten years in the technical field gave me an excellent opportunity to work closely with government agencies and see the growing maturity level in technology usability. 2017 was a significant shift in my career when I was seeking new challenges, and I was eager to work on gaining new skills. I decided to move to the Governance and Compliance Division, and now I am responsible for developing IT governance instruments, such as policies, standards frameworks, and guidelines for whole-of-Government.
---
Q3: To achieve gender equality and empower all women and girls is one of the UN Sustainable Goals. Information Technology is an area empowered by men. What do you think we can do to promote equality between women and men?
Recent years have shown a huge improvement in women's status, not only in the IT sector but also in various development fields. Many feminist movements globally were aimed to draw attention on major issues regarding fundamental women rights and structural inequalities and to impose reforms against social oppression. The Sultanate of Oman demonstrates a positive example to the rest of the world on the equal opportunities given to the Omani women in education, employment, and participation in decision-making. In 2009, His Majesty Sultan Qaboos declared October 17 of every year as the day to celebrate Omani Women's Day. I am proud to be a citizen of a country where men and women enjoy equal rights. In keeping with the royal vision of His Majesty, ITA sought to co-operate with all the concerned institutions, so as to establish and create the Community Knowledge Centres for Woman (WCKC) to be spread across the different regions of the Sultanate. These Centres aim to train women in the area of information technology to enable them to be actively participating in building the Omani Digital Society. In addition, Dr. Salim Al Ruzaiqi, the CEO of ITA, has always emphasised the importance of engaging women in leadership roles.
As a wife and a mother, I would like to set an example for all women never to stop working hard towards achieving your dreams because the sky is the limit. I believe that keeping the dialogue open between both genders and bringing inequality concerns to the table is the key to achieve an agreement.
---
Q4: We understand that Oman has been improving its EGOV approach in the last years. Is there any project or initiative that you would like to highlight as having a significant impact on the Omani society?
Enabling society and individuals is the core focus of the e.Oman strategy and many government initiatives are centred on providing automated online services to the citizens. The "Invest Easy" portal is one of the most successful projects provided by the Ministry of Commerce and Industry to entrepreneurs, prospective investors, and businesses to manage and set up their companies in an easy and fast manner. This initiative helped minimise the need to visit different Government entities on separate occasions to complete traditional paperwork. Also, the "Advanced Manpower Management Systems" by the Ministry of Manpower offers exceptional e-services for job seekers, students, employees, and employers to submit and process their inquiries completely online. On the other hand, the Royal Oman Police provides an electronic customs data system called "Bayan", dedicated to all customs procedures and operations, enabling customers to finalise all customs interactions electronically. This project, in particular, has scaled up the level of the country at the international circles in the trading and economic aspects, and helped attract more businesses to Oman.
---
Q5: What major trends do you see in the EGOV area for the upcoming years?
We already witness major transformations on our modern society followed by the technological booming of the Fourth Industrial Revolution. Many new technologies will reshape governments, healthcare, education, media, and commerce. Innovations such as artificial intelligence, Blockchain, and 5G are currently under the microscope and futurists are trying to predict the potential impact of those powerful emerging technologies. I think policymakers, business organisations, academia and other stakeholders should collaborate to align with future common goals.
*The views and opinions expressed in this interview are those of the interviewee and do not necessarily
reflect the official policy or the opinions, beliefs, and viewpoints of the UNU.