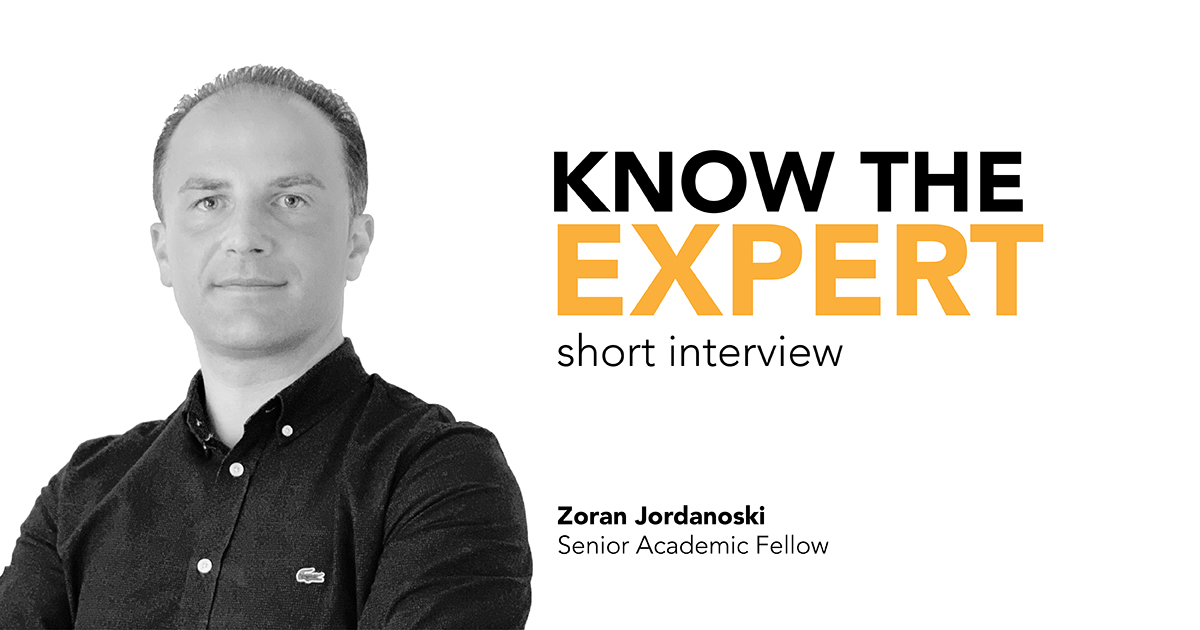 ---
Q1. Before joining UNU-EGOV, you were working for the Directorate for Personal Data Protection of Macedonia. Could you highlight some of your achievements during this period?
My previous experience includes over a decade in the Macedonian public administration within the Ministry of Transport and Communications (MTC) and the Directorate for Personal Data Protection (DPDP). My focus during this period was on legislative and administrative reforms, mostly dealing with coordination and drafting new legislation, administrative burden reductions, re-design of administrative procedures, and transformation of the public service delivery, including public procurements, various licenses, permits and certificates related to property, construction and transport.
During the first two years as a Head of the Legislative Unit within the DPDP, I was responsible for drafting national policies and regulations related to privacy issues, security and data protection, which also included membership within several inter-ministerial working groups for sectoral legislation adjustments and privacy compliance of the digital transformation projects. Also, I was a member of the expert working groups for the development of the Macedonian Open Data Strategy and Action Plan (2018-2020) and the Macedonian Data Protection Strategy (2017-2022).
Furthermore, my work as a Head of Unit for International Affairs within the DPDP allowed me to represent my institution at both the European and international level, but also to gain experience in project management. One of my greatest achievements during this period as a project manager within the institution was the successful implementation of an Erasmus+ funded project which resulted with accreditation and roll-out of a Master's programme for Information and Network Security, Privacy and Data Protection, the first one of that kind in the region.
---
Q2. During your academic career, you were mostly focused on the subject of "international law". What gathered your interest for this field in particular and how does it relate to e-Government?
My professional and academic paths were on different tracks for a long time. Even though my professional engagements within the MTC were related to the transposition of European Union legislation, my academic research at that time was mostly focused on International Law.
However, my move to DPDP in 2015 allowed me to narrow the gap between my academic and professional interest. Being Head of Unit for International Affairs gave me the opportunity to change my professional field of work from domestic affairs to international affairs. I used this period to perform research on international and European standards and trends for privacy and data protection. Furthermore, my academic and professional portfolio was enriched by the membership in several inter-ministerial expert working groups for privacy compliance of digital transformation projects on a national level, together with the representation of DPDP at international level.
The turning point for full alignment of my academic and professional focus was my Government Fellowship Programme at UNU-EGOV in 2018. Following the programme, I joined the Operating Unit in 2019 as a Senior Academic Fellow and continued my research activities related to privacy and data protection as an integral part of the digital government transformation. Moreover, my research interest on legal, regulatory and privacy issues in the context of emerging and disruptive technologies such as AI, big data, blockchain and concepts such at IoT and sustainable cities brought a new light to my academic career.
---
Q3. As governments become more and more digital, how important is the discussion related to data security and data protection? Do you think the most advanced governments in this area are taking such issues seriously or is there still much to be done?
We are living in a world where data is one of the most valuable resources. The aim for protecting the citizens' data is not just to protect their personal data, but also to protect their fundamental rights and freedoms related to that data. The consequences of inadequate protection of such data can be enormous, and sometimes even fatal.
The importance of data security and data protection is acknowledged by most of the governments and is an integral part of their digital agendas. It resulted in the adoption and implementation of a national data protection legislation for ensuring that citizens data are collected and processed lawfully. The fact that more than 50% of the countries have already adopted and implemented legislation to secure the protection of data and privacy illustrates the level of awareness among governments.
However, the mere adoption of national data protection legislation is not enough. Serious challenges remain for the level of data protection established by law and the compliance mechanisms. Also, governments should put significant efforts to ensure proper implementation and compliance with the data protection regulations to ensure an adequate level of data protection by the public and private sector. Additionally, actions are required for increasing the citizens' awareness of the importance of protecting their personal data.
---
Q4. What is your view on the importance of EGOV in general for society nowadays?
The impacts and benefits of EGOV are many. In general, it transforms the society into more democratic, transparent and inclusive. It also improves governmental services, provides better accessibility, transparency and accountability.
Once properly designed and implemented, the EGOV results with improved efficiency and effectiveness of the government institutions and their services, provide cost savings to government, citizens and businesses, and reduce the digital divide. It also has a significant impact on the democratisation of the country by providing opportunities for everyone with easy access to information and broader public participation in policy creation and decision-making. In short, EGOV helps bring governments closer to their citizens. Ideally, citizens should be able to communicate with their governments as easily as they are communicating with their friends, while the access to, and re-use of, public sector information for the citizens and the business should be easy and free of charge.
---
Q5. What significant trends do you see in the EGOV area for the upcoming years?
The next phase of EGOV development will be focused on data and the use of that data to build smart communities and smart governance. We are living in a sensor-based hyperconnected world where the smart and intelligent products, services and solutions are already here. Anticipating this, the governments are making significant plans and efforts towards the use of emerging and disruptive technologies, such as Artificial Intelligence, Internet of Things, Blockchain, etc. Although severe privacy and data protection dilemmas are present, the use of new technologies will bring intelligent and smart government services to the world.
*The views and opinions expressed in this interview are those of the interviewee and do not necessarily
reflect the official policy or the opinions, beliefs, and viewpoints of the UNU.