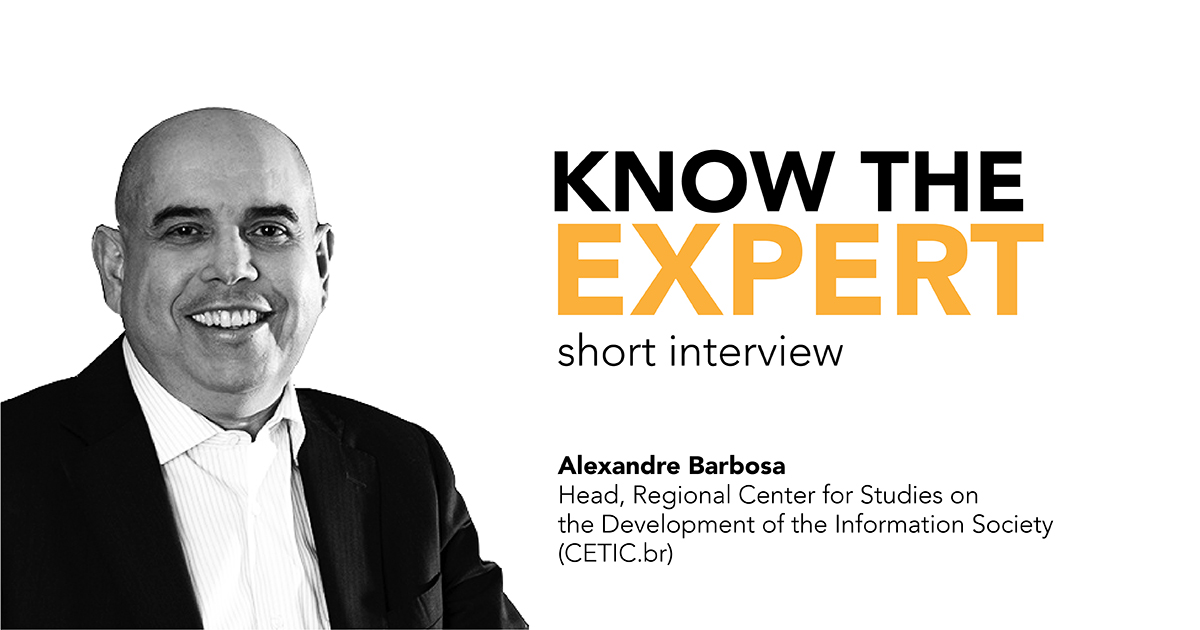 ---
Q1. You hold a PhD and a Master's in Business Administration, together with an MSc in Computer Science. How did this academic combination lead you to your current position at Cetic.br?
Throughout my studies and my career, my focus has always been technology. Initially, telecommunications and data communication protocols and, later on, the Internet. My interest in the effects of digital technologies on society and measuring their impact led me to a PhD on the social construction of technological artefacts. More specifically, I wanted to understand how the adoption of information and communication technologies led to radical social change worldwide, particularly those associated with the Internet's consolidation as a social and business networking platform.
The conclusion of my PhD in 2008 marked the beginning of an important career change: I left the telecom industry to join a research centre that produces high-quality, policy-relevant data. I firmly believe that data is crucial for sound decision-making and tracking government actions and policies. Ultimately, you need data to measure the impact of digital transformation on society; without data, you cannot design effective policies. In 2009, I joined the Regional Center for Studies on the Development of the Information Society (Cetic.br), a Brazilian Network Information Center (NIC.br) department, which I have headed for the last twelve years. As a research centre which mission is to produce timely and reliable data and statistics for measuring the impact of ICT on society, it is the ideal setting for a researcher such as myself. Cetic.br sits at the intersection of digital transformation and society.
---
Q2. As the Head of Brazil's Regional Center for Studies on the Development of the Information Society, what major initiatives did you carry out during your time there?
Over 15 years, Cetic.br has striven to help build inclusive knowledge societies in Latin America and Portuguese-speaking Africa. The centre carries out nationwide ICT surveys, produces periodic indicators and statistics on the availability of ICT in Brazil, and offers capacity-building programs in research methodologies in the regions where it operates.
In an ever-changing technological world, countries need policy-relevant, timely data and statistics. Policy design must be based on sound measurement frameworks that respect internationally agreed-upon concepts, definitions, indicators, and metrics. As the head of Cetic.br, I have led major initiatives involving data production and the measurement of digital transformation, the digital economy, capacity-building on survey methodologies, and methodological innovation. We have recently explored new tools such as big data sources and data sharing to complement traditional data when producing public statistics. The newly-created Laboratory of Methodological Innovation at Cetic.br seeks to leverage new collection methods and online microdata to foster end-to-end innovation in data production. Cetic.br is also an active actor in international debates around the information society and digital economy measurement.
---
Q3. Brazil, like almost all countries in the world, has been deeply affected by the COVID-19 pandemic. Have you been able to assess, thus far, what were the positive and negative impacts regarding the use of ICT in the country?
COVID-19 severely impacted Brazil, which soon became the pandemic's epicentre in Latin America, with an astoundingly high number of daily infections and deaths. Digital technologies played a key role in warding off isolation due to social distancing and mitigating the pandemic's effects. Of course, the Internet has been indispensable for communication, access to information, online purchasing, accessing public services, telemedicine, remote work, distance learning, and leisure.
The pandemic also greatly affected national statistics institutions, and data producers such as Cetic.br. Face-to-face data collection, deemed non-essential, was shut down. Thus, we designed a contingency plan to ensure the production of traditional statistics and new ones, precisely to measure how the pandemic impacted the adoption and use of digital technologies.
The centre conducted a web survey on the use of ICT during the pandemic. It focused on three aspects: 1) culture and electronic commerce; 2) online public services (e-Gov), telehealth, and privacy; 3) remote education and work. The survey, which comprises three editions, provided policy-relevant data on the impacts of COVID-19 on Internet use, online habits, and activities during the pandemic. The full report is available here. The pandemic has highlighted the importance of accurate and timely data to drive effective policy in Brazil.
---
Q4. Do you think EGOV has played its role well to help governments and citizens communicate during the lockdowns we witnessed in 2020 and that, in some cases, continue in 2021?
No one can deny the substantial contribution of digital technologies during a global health crisis and, in particular, the critical role of EGOV portals and e-Services in providing information to citizens. Cetic.br's survey data reveals that searches for health information and health services have increased considerably across all socio-economic and education levels during the pandemic. However, to transform this temporary use into permanent benefits for all, the potential of EGOV must not be seen as something abstract; it must be seen within the socio-economic context of Brazil, which is marked by high levels of inequality.
Digital government and broadband access are, without a doubt, key to a more just transition toward a digital society. In Brazil, significant progress has been made in digital government development, including innovative mechanisms for engaging with citizens, digitising public procedures, accessing data, and increasing transparency and accountability. However, this is happening in a context where numerous citizens in rural and remote areas are excluded, including the most vulnerable. And this exclusion is deeply rooted in social and educational disparities.
---
Q5. How do you see Brazil, one of the major emerging national economies, regarding digital governance in the upcoming years?
Digital government is a cornerstone of Brazil's digital transformation plan. It can improve interactions with citizens at all levels (federal, state, and local). However, as I mentioned earlier, part of the population remains digitally excluded. In other words, due to a lack of broadband connectivity, the poorest and most vulnerable Brazilians do not have access to digital government. They also lack the necessary skills to use new technologies, as they do not have access to quality education. Thus, Brazil must make decisive progress in two dimensions: connectivity and digital skills.
However, it is essential to note that Brazil, a major emerging economy, has made significant strides in developing its ICT infrastructure and broadband connectivity. It has the potential to greatly improve digitalisation and digital inclusion in the coming years, which are vital to promoting social inclusion and welfare. Finally, the need for high-quality, policy-relevant data and statistics in the digital government field is undeniable. Cetic.br has an EGOV survey that measures the country's digital government at all levels. Full reports are available here.
---
*The views and opinions expressed in this interview are those of the interviewee and do not necessarily
reflect the official policy or the opinions, beliefs, and viewpoints of the UNU.