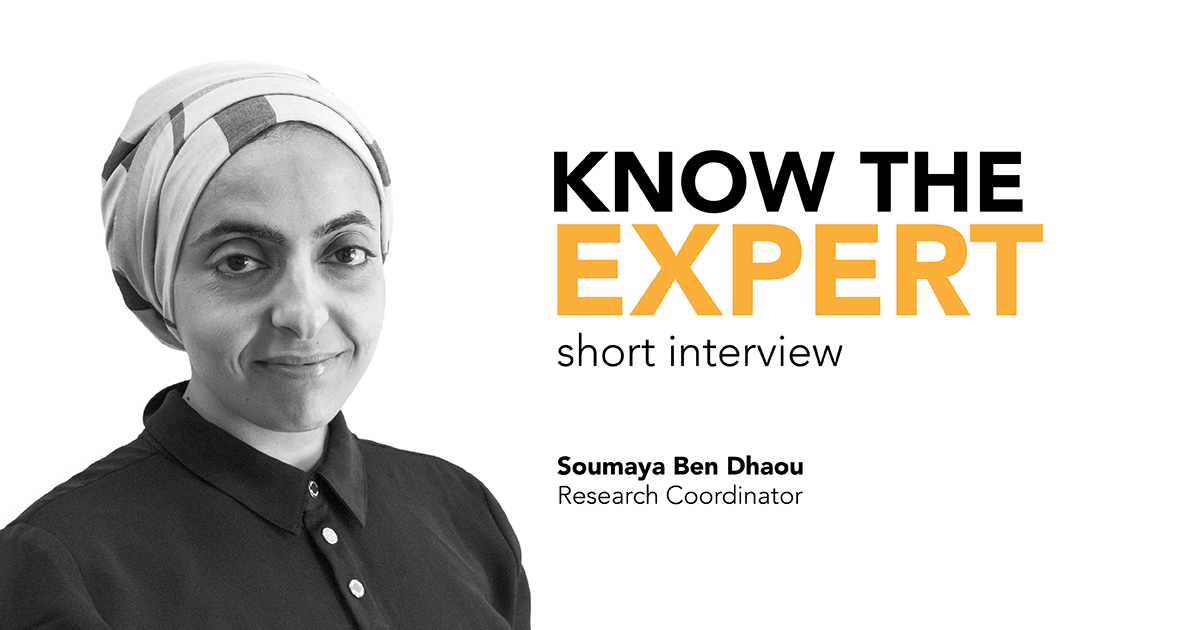 ---
Q1. Before settling in Portugal and starting your current job at UNU-EGOV back in 2016, could you tell us a bit more about your previous academic and professional paths?
Before starting a position at UNU-EGOV as a research fellow, I was an assistant professor of Management and Information Systems at the Business School of South Mediterranean University in Tunisia. During this period, I developed and coordinated the master's degree in Business Analytics and Big Data while also leading the Management and Information Technology discipline.
I started my academic career at the same time as my PhD. I was a lecturer in Information Systems during the first year of my doctorate. I also had the opportunity to teach both bachelor's and master's students at the Department of Management and Technology at the University of Quebec in Montreal and participate in different research projects. I then moved to the Ontario province of Canada, where I held the position of postdoc researcher and collaborated with a team. Then, I held the position of assistant professor at the Nippissing University in Ontario.
---
Q2. You have vast experience working and living in different countries of the world. Has this shaped your work and research somehow?
It certainly influenced my work and research. I would say that the training received during my PhD in Canada had a very positive effect on the work and research I perform nowadays. I had the opportunity to complete my PhD in the Joint Program of Business Administration at four different universities: McGill University, Concordia University, HEC Montreal, and the University of Québec at Montreal, always with academic leaders in the field. There was a very high level of expectation regarding the rigour of methodology. Of course, during this period, I sometimes felt frustrated about the time spent working on methodology instead of progressing on the specific subject of my thesis. But today, I am glad I was pushed to work hard on methodology since it had an evident positive influence on the quality of my research.
---
Q3. Currently, one of your main topics of research is Blockchain and disruptive technologies. How do you feel working on this niche area, especially as a woman in a field still heavily unbalanced (gender-wise)?
I would say that the ICT field remains heavily gender unbalanced, even though more and more women are working in this area. Emerging technologies in general, and Blockchain in particular, are no exception. However, Blockchain is at an early stage of development, which means a lack of familiarity and inherent complexity exists. Also, a dominant behaviour is present of "wait and see" regarding Blockchain. Research and development are still ongoing, and a lot remains to be built, whether looking at Blockchain from the research, academic or professional fields. From this perspective, Blockchain will encompass multidisciplinary expertise and capabilities from different areas beyond technology, such as economy, finance, legal, and others. With the improvement of Blockchain literacy, this field will attract more and more people and create diversity in age and gender with time.
---
Q4. As part of your role at UNU-EGOV (Research Coordinator), what are your main responsibilities?
As a research coordinator, I have many activities and responsibilities on my side. However, it is not really a job restricted to specific tasks. We are not a big team at UNU-EGOV, which means a very broad and diversified number of responsibilities falls on each one. It is a vibrant environment, and there is no set routine. If I have to cite a specific task that directly defines the role of the Research Coordinator, I would say it is the preparation of the Core Research Programmes, which encompass all our work and research, advisory activities, and capacity building. Simply put, It is the equivalent of the strategy for an organisation. But this is just one of the responsibilities that we perform every 2/3 years. Beyond that, just to give you an idea, I coordinate the Research Lines, the advisory and research projects, and the development of curriculum and courses, among other tasks. I could spend the whole interview just talking about this!
---
Q5. What do you think will be the major trends in Digital Governance in the upcoming years?
With the current pandemic situation and its impact on society, I think things have changed tremendously and are accelerating our field. I am not keen on prediction, and I certainly cannot cite a specific trend, but Digital Governance is now becoming a "survival" matter for all countries worldwide. It played a crucial role to go through the ongoing COVID-19 crisis. Decision- and policy-makers do not have the choice to postpone this matter as they did before. It is a priority now, as all the key sectors – health, education, security – are dependant on or are heavily affected by digital governance (or lack of). It will undoubtedly play a critical role in managing the post-pandemic crisis and the social, economic, and political challenges that lie ahead. There will be a new "Digital Governance 5.0" that will have a different path than previously thought because of the new reality that our societies are living in now. This is true for merging countries as well, which will have to invest in digital technologies in government to leapfrog ahead.
---
*The views and opinions expressed in this interview are those of the interviewee and do not necessarily
reflect the official policy or the opinions, beliefs, and viewpoints of the UNU.