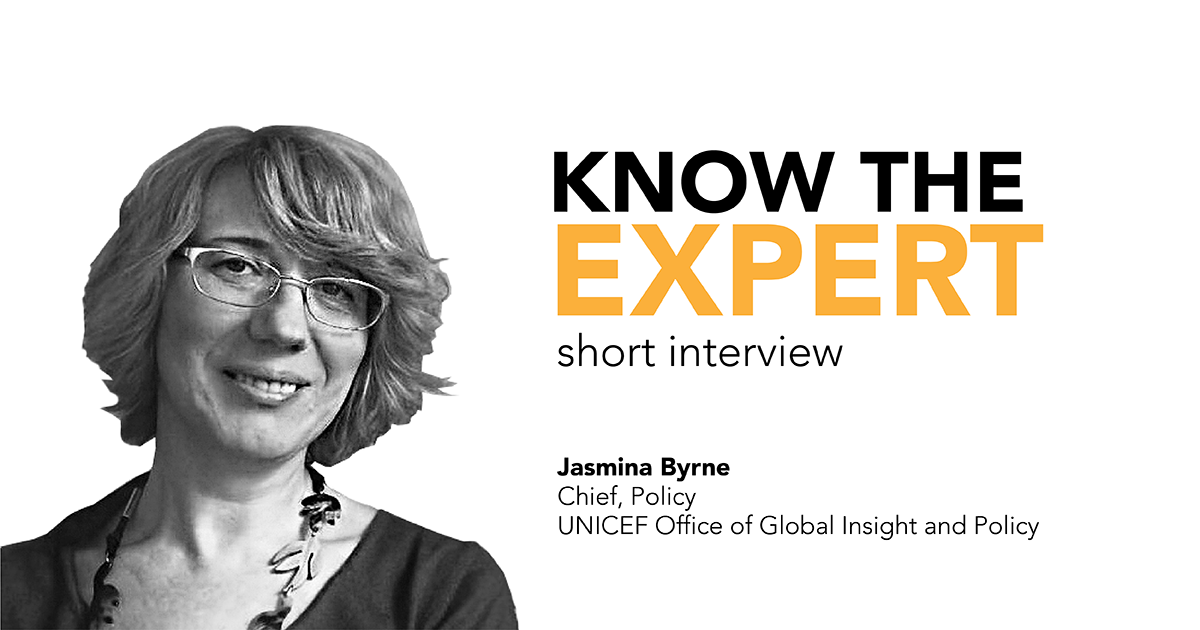 ---
Q1. With an academic background in international relations, human rights, and social policy, it seems just right that your professional path would lead you to the UNICEF's Global Insight and Policy. Could you let us know a bit more how it all started?
It all started during the Yugoslav Wars in 1992-95 when I joined the International Committee of the Red Cross. I was responsible for education and dissemination of humanitarian law principles, which was not an easy task given that some of the worst humanitarian violations were carried out on those territories. Following the war, I worked on setting up the first-ever child rights centre in the region. I was its director for about a year before I moved with my husband to Lesotho and then to South Africa. This is where I developed a real passion for children's rights: I worked for Save the Children and UNICEF on policy and legal reform, child protection and child welfare services at a critical time in South Africa's history: the consolidation of democracy and Nelson Mandela's presidency.
I then moved with UNICEF to Indonesia and a few years later, in 2010, to UNICEF's Office of Research – Innocenti in Florence, Italy. There I established a body of research on children's use of the internet, at a time when few institutions globally thought this was an important issue. In partnership with the London School of Economics, I set up the Global Kids Online network, which led to research with children in some 20 countries, including Ghana, China, and Argentina. This work on digital connectivity led me to my current position. The newly-formed Office of Global Insight and Policy, an internal UNICEF think-tank, established a team to lead analysis and provide policy advice on emerging and frontier issues and global trends. After having lived on three continents, I found myself in New York in a job where I can combine my research interests with the development of global standards and policy.
---
Q2. You were Head of the UNICEF Child Protection programme in Indonesia. What major initiatives did you carry out during your time there?
One of my first assignments in Indonesia was to set up a network of organisations working to reunite children separated from their families during the devastating tsunami that hit the country in 2004. We worked with the government to develop a separated children strategy and place a temporary moratorium on the adoption of children. Priority was given to placing children with surviving family members and relatives. After about six months of tireless work involving many agencies, we managed to locate more than 2000 children and reunite them with their families. However, many who lost their parents were placed in institutions, and our job was to raise awareness and work with partners to prioritise family care over orphanages.
Indonesia is a vast country, and we worked across 14 provinces; our child protection activities ranged from juvenile justice to preventing abuse and exploitation of children and strengthening child welfare services. As a UN agency, we mostly worked with our government partners and supported them through policy advice, technical assistance, and funding to carry out some of the reforms needed in the welfare sector. Indonesia, being situated in the ring of fire, has no shortage of natural disasters. Working in Indonesia was a constant balancing act between responding to emergencies and supporting the country's development.
---
Q3. The COVID-19 pandemic brought to the spotlight the need for robust and efficient e-Services. Together with researchers from UNU-EGOV, could you already share the main outcomes of the report on "Digital transformation, digital services and children"?
The report examines to what extent has governments' drive for the digitisation of services included services for children and their parents. We wanted to see how this specific group can benefit from e-Governance and what challenges governments face to ensure child-sensitive digital services. We saw a lot of potential, especially for adolescent users who are reached with a range of services, not only related to health and education but also concerning their voting and legal rights, tax, driving licenses, etc.
We found out that key factors which facilitate child-sensitive e-Government include identity management, adequate data protection, user engagement in service design, and consultation with relevant partners. Most of the civil servants we interviewed are aware of this, including the fact that considerable progress is needed to turn these principles into practice. In this report, we call for better coordination of e-Government service initiatives, an increase in national and sub-national capacity, child-centric design of services and regular age and gender-disaggregated data collection.
---
Q4. Do you think EGOV has played its role well to help governments and citizens communicate during the worldwide lockdowns we witnessed earlier this year?
We have seen that citizens of all countries needed, and sometimes demanded, accurate information about COVID-19. In times of national emergencies, such information is vital and should typically be provided by trusted government sources. EGOV has greatly facilitated this through contact tracing and information sharing by local and national governments about hot spots, testing sites, daily infection rates, and other vital statistics. When it comes to children, education resources provided by governments through ed-tech platforms helped millions of children stay connected and continue their learning. For children who found themselves under lockdown in households that experience domestic violence and abuse, digital services provided by social workers were a lifeline.
But governments are not immune from sharing misinformation or using digital technologies for surveillance. We must remember that technology is just a tool, which if used wrongly, can cause more havoc than good. There is no doubt that EGOV is essential; what we need is more good e-Governance in line with human rights and internationally agreed data protection standards and ethical principles.
---
Q5. In the upcoming years, what do you think will be the major trends in this area?
We are going to see an expansion of digital technologies and use of these for government services across the globe, coupled with greater investments in innovation and AI systems. Digital innovation in government sectors is also going to drive public sector reform as it will make the services leaner and more cost-effective. Digital expansion will generate more data and more opportunities for algorithmic analysis and modelling for the benefit of citizens, including children.
At the same time, we shall see greater demands by citizens for accountability and transparency, and greater protection of their data. There is also a risk that the already persistent digital divide continues, as most of the gains from the digital economy and digital innovation are concentrated in only a few countries. We may also see governments getting more assertive about what kind of internet governance they want and how the benefits of technology can be distributed more equally. This will probably drive greater regulation of the tech sector and the development of AI and data protection standards. During this period of digital growth, we should seize the opportunity to ensure that children's issues are visibly addressed in policy, as they are the generation that will be most affected by digitisation.
---
*The views and opinions expressed in this interview are those of the interviewee and do not necessarily
reflect the official policy or the opinions, beliefs, and viewpoints of the UNU.