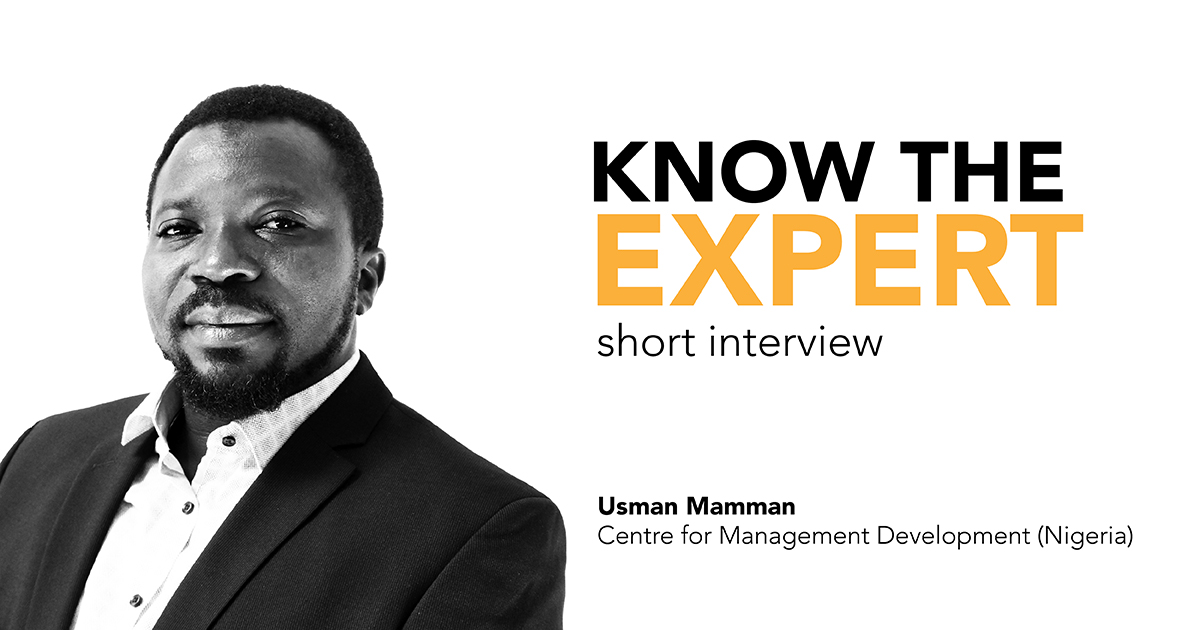 ---
Q1. What led you to participate in the UNU-EGOV Government Fellowship programme, which has been running in Guimarães for three years now?
My journey towards the fellowship began as far back as 2013 after completing a course in Seoul. This was when I started developing a keen interest in e-Government. When sharing my learning experience with work colleagues, I was encouraged by my Director to establish a training database for the Centre for Management Development (CMD). It was now early 2014.
Interestingly, this led to a meeting with the (then) project manager to develop a project for capacity building of e-Government in the country. In that year, the World Economic Forum for Africa was being held in Abuja, which was an important meeting place that kick-started the project. Later, I was brought in to help with the curriculum aspect of the training program component of the project, which in turn led to my Master's degree in 2017. By 2018, the project was winding down and the second phase was not decided yet, so I started looking for other challenging opportunities that would add value to my CV and also gain more experience in the e-Government field. My research became fruitful when I came across the UNU-EGOV Fellowship Programme. I applied straight away with the support of my organisation. When I got the email indicating that I had been selected, I was pleased and felt honoured to be accepted because fellowship programs are full of opportunities to gain not just new competencies, but also for networking opportunities and for making new friends
---
Q2. The Centre for Management Development (CMD) of Nigeria was founded in 1973. You have been working there in the past seven years. Could you let us know a bit more about your professional path?
I was first trained as an economist, and I worked for three years in the oil and gas industry, mostly in human resources and some engineering consultancy projects. In between, I enrolled in a project management course at the University of Liverpool, where I obtained a graduate certificate in project management. In 2012, I joined the CMD as a Management Development Officer. In 2014, I was transferred to headquarters (IT department), and that was when I got involved in many IT initiatives at the national level, including the Nigerian e-Health Strategy with UN Foundation, NORAD and the Ministry of Health. By 2015, I was actively involved with the Project for the Capacity Building of e-Government and got my Master's degree in EGOV (Seoul, 2017). In 2018, I was back at my role in the IT department designing curriculum and conducting training until I was reassigned to economic management late in the year.
---
Q3. One of the 2030 UN Sustainable Development Goals is "Decent Work and Economic Growth" (SDG 8): "more progress is needed to increase employment opportunities and promote safe and secure working environments to create decent work for all". As part of your experience in training and capacity building, how do you think your work could help achieve this SDG?
Development is all about capacity, and to make progress we need sustainable growth, and it must be all-inclusive in terms of opportunities. The ICT tools we have today can be used to support SDG 8. To make real progress, education and training are the keys. Enhancing skills and developing new ones for the information age and other lifelong learning are things that we must do.
The CMD has been at the forefront of this for over four decades. The centre has developed several entrepreneurial, lifelong education and training programmes that improve the skills of public sector officials and many other groups. However, more needs to be done to tackle the major challenges of skills development for all. On the ground, we see some synergy and efforts to enhance new skills required for the 21st century.
Looking into the future, we must find new models and solutions that work as our population continues to rise and is projected to become the third-largest in the world by 2050. I believe all CMD staff will continue to give their best as trainers to continue developing new programmes to train policy-makers and enhance their skills to make better and more informed decisions. The challenges of funding, lack of synergy between education and industry cannot be changed with the current mindset. A change in the mindset, adequate funding and support are necessary, especially in our context, to achieve the Sustainable Development Goal 8.
---
Q4. We understand that Nigeria is ranked relatively low in the UNDESA e-Government Index 2018 (position 143 out of 185). However, the country has undoubtedly been trying to improve its EGOV approach in the last years. Is there any project or initiative that you would like to highlight as having a significant impact on the Nigerian society?
Indeed, Nigeria has been trying to improve its position in the e-Government Index. However, we still have a lot of catching up to do with the leading nations in Africa. In 2015, Nigeria got into its worst recession in 25 years due to the fall in oil prices and other structural problems within the economy. As such, it became very imperative to restore the health of the economy and manage the impact of the recession. The effort in terms of policies was supported with tools that helped Nigeria manage its finances and steer the economy back to growth in about two years.
Two systems helped this transition to growth: 1) the financial management system (GIFMIS) and 2) the Single Treasury Account (TSA) helped create accountability and transparency that did not exist before and gave the government a bird's eye view on all public finance. Besides, it has helped the government save and recover billions of dollars that would otherwise be wastefully spent. Through these savings and improved resources, Nigeria was able to launch a $1.5 billion National Social Investment Programme (NSIP) within just one year of the recession. This is the first truly national and social security programme with over nine million direct beneficiaries in four major areas. People between the ages of 18-35 are provided with a monthly stipend and training, there is a conditional cash transfer to citizens at the lowest poverty bracket, small and medium scale enterprises are empowered through a zero-interest loan programme, and the homegrown school feeding programme is meant to improve malnutrition for school children.
---
Q5. What major trends do you see in the EGOV area for the upcoming years?
The future is very difficult to predict. Having said that, I think governments will continue to push the efficiency curve further in new areas through the use of, or combinations of, new and emerging technologies, such as Artificial Intelligence, Internet of Things and Big Data. We may see the adoption and use of algorithms in government services in many areas in the upcoming years. Beyond the efficiency drive, the personalisation of services will be a major driver for a lot of governments. The most exciting aspect for me about these new and emerging technologies is their application in the Smart Cities domain and their potential impact on some of the most pressing urbanisation problems around the world, especially in megacities. Another area is the possible shift to m-Government, especially in countries with high mobile phone penetration. However, how all this plays out depends on how data, security and privacy issues are addressed.
*The views and opinions expressed in this interview are those of the interviewee and do not necessarily
reflect the official policy or the opinions, beliefs, and viewpoints of the UNU.